General Motors will soon have the biggest rooftop solar array in Ohio when its 1.8 megawatt (MW) system comes online next month.
Sitting on top of GM's Toledo Transmission plant, that huge solar system will still only be enough to cover 3% of the plant's power.
"Having 21,000 solar panels on Toledo's roof is a great visual representation of our commitment to renewable energy," says Rob Threlkeld, GM's manager of renewable energy. "It proves to our employees and the people who live in and around Toledo that clean energy plays a significant role in the building of our vehicles."
By the end of this year, GM will have more than 40 MW of solar at facilities worldwide, with a goal of reaching 60 MW by 2015. It ranks #21 in the US for corporate use of solar and tops the auto industry.
Solar canopy with electric car chargers: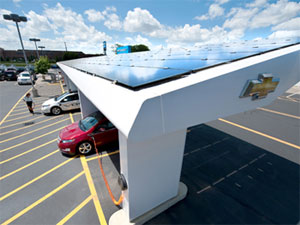 Its venture capital arm, General Motors Ventures, has an equity stake in commercial solar developer Sunlogics, which designs and operates systems in the US, Canada, and Europe.
These corporate solar installations make a big difference. When Walmart added solar to 12 Ohio stores that alone increased the state's solar capacity by 10%.
(Visited 4,773 times, 2 visits today)