While the average person has yet to embrace hybrids, much less electric cars, some policy makers and car manufacturers are planning for their biggest bet of all – fuel cell cars that run on hydrogen.
Last month, California's legislature passed a bill (AB 8) that appropriates $2 billion to continue incentives for purchases of low-carbon vehicles through 2023 for cars, trucks, buses and construction equipment.
Included in the bill is $20 million a year to build a state-wide network of hydrogen fueling stations, following through on former Governor Arnold Schwarzenegger's vision of a Hydrogen Highway. The goal is to install at least 100 hydrogen stations in the next few years.
Currently, just 10 hydrogen stations in the US are open to the public, nine of which are in California(the other is in South Carolina).
The legislation will create tens of thousands of jobs in California's clean transportation tech industry and set us on a course to meet our clean air and climate goals," says John Boesel, CEO of CALSTART.
Two other recently passed pieces of legislation make electric cars much easier to charge. It requires most new buildings to have charging stations and makes it possible for people to charge their cars at any of them.
Germany Too
Meanwhile in Germany, Daimler is joining with five oil companies and industrial gas producers to form "H2 Mobility." Partners are Shell Hydrogen, Total, OMV, Air Liquide and Linde.
The group says it will invest $500 million to build 400 hydrogen fueling stations by 2023 in Germany.  The first 100 will be ready within four years, up from just 15 now.
"By 2023 there should be more hydrogen filling stations than conventional ones on the autobahn today," says Thomas Weber, head of R&D for Daimler. The goal is for a hydrogen station every 56 miles.
Daimler is betting that fuel cell cars are the "final" clean car solution. Within five years, it plans to introduce fuel cell cars that cost about the same as a diesel-hybrid does today – about $71,000. About 200 Mercedes B-Class F-Cell cars are currently on the road.
Over the summer, GM and Honda announced they will jointly develop fuel cell technologies. They plan to share suppliers and build on each others' technologies to bring down the cost of fuel cell cars in the 2020 time frame. The end result will be a common powertrain with standard components that can build toward economies of scale.
They also plan to work with local governments and other stakeholders to expand the network of hydrogen stations, which cost about $1 million each to build.
Honda has been working on improving its FCX Clarity vehicle for over 10 years and plans to launch a fuel-cell electric vehicle in the US in 2015.
FCX Clarity: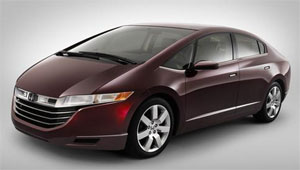 Toyota and Hyundai are also focused on fuel cells for the long-run. Toyota plans to introduce a fuel cell sedan and a bus by 2015. It sees a brighter future for fuel cells than electric because of proprietary technology. Electric cars "can be made by any company," it says.
Fuel cell cars avoid the difficulties of the small range and long charging time of electric car batteries. They refuel in minutes and have similar ranges to gasoline-fueled cars. But building the fueling infrastructure is extremely expensive as is bringing down the price of the cars. Electric cars have the advantage of being able to be plugged in at home. Both can be close to zero emissions – if renewable energy is used to produce hydrogen or to charge a battery.
Commercializing fuel cells and shifting from gasoline to hydrogen could generate 675,000 new jobs over the next 25 years, according to the Department of Energy.
(Visited 8,478 times, 7 visits today)