It's a watershed moment for US solar this week as the Solana Solar Concentrating Plant comes online in Arizona – the first time a solar plant is producing energy at night.
Built by Spain-based Abengoa, molten salt technology stores the heat produced from solar energy throughout the day and then releases it slowly at night. The plant can operate at full capacity for six hours after sunset, which coincides with peak demand in Arizona. Not bad – a solar plant that produces energy 18 hours a day!
Located about 70 miles southwest of Phoenix, Arizona Public Service Company is buying all the electricity from the 280 megawatt (MW) plant, which will serve 70,000 people.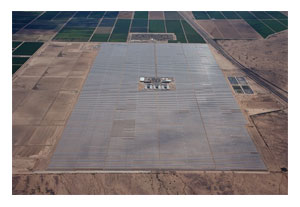 With the addition of Solana, the utility has 750 MW of solar, enough to serve 185,000 homes.
The US is now home to two of the world's biggest concentrating solar plants. Last week, the Ivanpah came online in California – at 377 MW, it is the world's biggest concentrating solar plant.
The two plants use different concentrating solar technologies: Ivanpah uses solar tower technology and Solana uses parabolic solar.
How Solana Works
Solana is the world's biggest parabolic solar plant, consisting of 2700 long rectangular mirrors that track the sun during the day, focusing its heat on pipes. It heats synthetic oil inside the pipes to super-hot 735 degrees Fahrenheit. The oil flows to steam boilers where it heats water to create steam. The steam drives two 140 MW turbines to produce electricity, much like a traditional power plant.
Super-heated oil is also sent to chambers that contain molten salt. When the sun goes down, the molten salt keeps the fluid hot enough to create steam.
"With Solana's substantial thermal heat storage capacity, we can manage electrical output from the plant much more effectively than from other solar power sources," says Pat Dinkel of Arizona Power. "With photovoltaic technology, generated electricity needs to be used immediately or it's lost. Solana's technology extends the use of solar energy to produce power whenever our customers need it most, including evenings."
While most solar plants generate just 20% of their rated capacity over the course of a year, Solana reaches 38% because of its ability to store energy. But that's true only during the summer when the days are long. During winter, Solana will produce energy for only 8 hours, two hours less than a solar PV system would, according to Arizona Public Service Company.
The utility expects power from Solana to add $1.28 a month to a typical bill. That drops to $1.09 a month after five years and $0.94 after 10 years.
Construction of Solana created 2000 solar jobs, and most components are locally made. A mirror manufacturing factory near Phoenix opened to supply all 900,000 mirrors for the project. In all, 70% of components are Made in the USA.
In 2010, the Department of Energy gave Abengoa a $1.45 billion loan guarantee to help Solana get financing for the $2 billion project. Indeed, the project would have come online sooner if it had an easier time finding financing.
At the time, Rep. Raul Grijalva (D-AZ) said, "This is yet another example of stimulus funds helping to lead our nation's and Arizona's economy back to recovery, while transitioning our energy policies to allow us to become a national and world leader in alternative energy generation.
Abengoa (MCE: ABG) is also building the Mojave Solar Project (250 MW), another parabolic trough plant, in California.
(Visited 15,590 times, 4 visits today)