Last year, eBay announced it would power its flagship Salt Lake City data center with renewable energy as its primary power source, the first company to do so.
It is using fuel cells and biogas and is now adding another source of energy – waste heat.
Ormat Technologies (NYSE: ORA), a leader in waste heat and geothermal systems, will build a 5 megawatt (MW) Recovered Energy Generation power plant in Utah and sell the electricity to eBay under a 20-year contract.
Ormat's REG power plants capture waste heat that would otherwise be released to the atmosphere and converts it to energy using a process similar to that of geothermal electricity generation.
Waste heat – which is produced by every facility – could be the biggest untapped source of energy. It is commonly captured in combined heat and power (CHP) systems. Massachusetts-based Tecogen, which makes modular CHP plants, recently filed for an IPO.
In this case, the waste heat will be coming from eBay's data center. It will be turned into electricity and sold back to eBay.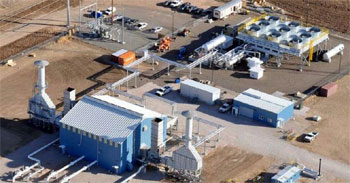 "This is a shining example of energy efficiency playing a bigger role in the U.S. energy market," says Yoram Bronicki, President of Ormat, noting that recovered energy significantly improves the energy efficiency of facilities.
eBay successfully advocated for state legislation (SB12) that allows energy customers to buy power directly from developers, rather than having to get it from utilities. Google is advocating for similar policies for its data centers.
"This milestone points to our belief that commerce can be fundamentally more sustainable than it is today – and that eBay Inc. can be a leader in that transition. We look forward to continuing in our pursuit of contracting REG power and to reach, and possibly surpass, our goal to source at least 8% of our energy from cleaner sources by 2015," says Dean Nelson, vice president of global foundation services at eBay.
About 8 MW of energy is currently needed to power the data center, which will expand by another 5 MW in the future. 75% of the energy will come from natural-gas powered Bloom fuel cells.
(Visited 5,224 times, 11 visits today)