Xcel Energy says it will double the amount of solar on its Minnesota grid – how? Simply by giving customers the option of participating in community solar projects.
That shows how much impact these projects can have. Community solar attracts residents and businesses that would otherwise not be able to have solar because they rent or have too much shade on their roof. Only about a quarter of properties are appropriate for solar, Deb Sundin of Xcel told Star Tribune.
Minnesota's first solar garden came online last month – a 40 kilowatt array developed by Colorado-based Clean Energy Collective, which specializes in community solar.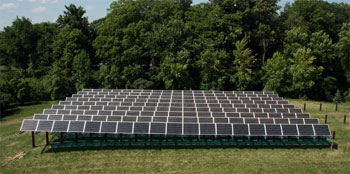 Xcel has much larger projects in mind, up to one megawatt (MW), and wants to build 2.5 MW per quarter for the next two years. That would add 20 MW to the grid to its current 14 MW.
Xcel offers the same option to Colorado residents under the state's Community Solar law. Xcel would select developers to build projects and then customers would buy shares in those solar gardens.
Minnesota's Renewable Portfolio Standard has a solar carve-out that requires each large utility to get 1.5% of energy from solar by 2020. Xcel would need about 300 MW to meet that requirement and it's got a long way to go. Utility-scale projects will also be necessary. Excel is also significantly expanding wind energy in the state.
California and Washington DC just passed bills that foster community solar and there are pockets of interest in solar gardens across the country.
Renewables Hit Record in California
1 gigawatt (GW) of renewable energy fed San Diego Gas & Electric's service territory last Thursday, providing almost a third of the day's peak consumption of 2.92 GW.
800 MW came from utility-solar projects, about 50 MW from wind plants and about 200 MW came from rooftop solar systems.
Utility Solar Prices Way Down
Last month, Xcel Energy submitted a proposal to Colorado regulators to buy energy from projects that would produce 170 MW of solar and 450 MW of wind, because for the first time, these are the most economic energy sources.
Prices for utility-scale solar have dropped by more than two-thirds over the past five years in the western US, reports Lawrence Berkeley National Lab in "Utility-Scale Solar 2012: An Empirical Analysis of Project Cost, Performance, and Pricing Trends in the United States."
Utility solar is defined as plants bigger than 2 MW. Looks like all it took was actually building some big plants for prices to drop.
Although several concentrating solar plants have been operating for some 20 years, it's only in the past five years or so that utility-scale solar PV plants have been built. And, as of 2012, utility-scale solar PV is the largest segment of the US solar PV market, says the report.
"With the growth in the market in recent years, we are now able to systematically review actual market data to directly observe what large-scale solar projects cost to build and operate, how they are performing, and at what price they are selling electricity," notes report co-author Samantha Weaver.
Key Findings:
Installed Project Prices: Thanks to much lower module prices, it costs a third less to install a PV project since the 2007-2009 period, dropping from $5.60 per watt to $3.90 per watt for projects completed in 2012. Further reductions are evident in 2013.
Costs for crystalline silicon modules have declined the most – closing the gap with thin-film modules – and are more widely used now.
Operating Costs: Data remains limited because so few projects have much history, but actual operating costs seem to be in line with projections. For solar PV, researchers estimate $10-$20 per megawatt hour (MWh) and $25-$30 per MWh for concentrating solar without energy storage.
Capacity: In some of the best locations in the Southwest, PV projects using single-axis trackers can reach capacity factors of 30%. Generally, thin-film has higher capacity factors in the Southwest because it performs so well in high temperatures, but not elsewhere.
For concentrating projects, those operating for over 20 years in California have capacity factors of 20% without energy storage.
Power Purchase Agreement Prices: Prices are down more than two-thirds since 2008, or by roughly $25 per MWh per year on average.
Utilities have recently signed long term contracts as low as $50-$60 per MWh for solar PV projects in the West, bringing it close to some wind prices there.
Solar PV is particularly competitive because the most electricity is generated during peak demand periods, amounting to roughly $20 per MWh (in California and at current levels of penetration) relative to a flat block of base-load power, and roughly $25 per MWh relative to wind power.
Download the report:
Website:
[sorry this link is no longer available]
(Visited 7,604 times, 5 visits today)