Governor Brown of California signed historic legislation last week, making it the first state to completely outlaw the use of lead bullets for hunting.
The military is also moving toward non-lead bullets, which will protects condors, eagles and thousands of bird species from lead poisoning. It will also prevent soldiers, hunters and their families from being exposed to lead.
California Condor: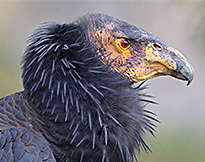 "Nationwide, millions of non-target birds and other wildlife are poisoned each year from scavenging carcasses containing lead-bullet fragments, eating lead-poisoned prey, or ingesting spent lead-shot pellets, mistaking them for food or grit. Spent lead ammunition causes lead poisoning in 130 species of birds and animals. Nearly 500 scientific papers document the dangers to wildlife from this lead exposure," says Center for Biological Diversity.
The state's Fish and Game Commission must issue regulations by July 1, 2015 that phases in the use of non-lead ammunition for hunting of all kinds including game mammals, game birds, non-game birds and non-game mammals. These requirements must be fully implemented no later than July 1, 2019.
In 2008, California banned the use of lead hunting ammunition in the Condor range to protect the state's reintroduced flocks, under The Ridley-Tree Condor Preservation Act. Since then, hunters have purchased the same number of game tags. There's also an epidemic of lead poisonings and deaths of the Grand Canyon population of endangered condors, but that state refuses to move to non-lead ammunition, says Center for Biological Diversity.
A coalition of 268 organizations from 40 states petitioned the U.S. Environmental Protection Agency (EPA) to end the use of lead in hunting nationwide. So far, EPA has not acted.
A national poll released earlier this year finds that 57% of Americans support requiring the use of nontoxic bullets for hunting.
Even at low levels, lead is an extremely toxic substance, dangerous to people and wildlife. Exposure to lead causes a range of health problems from damaged neurological development to acute poisoning and death.
Studies using radiographs show that lead ammunition leaves fragments and numerous imperceptible, dust-sized particles that contaminate game meat far from a bullet track, causing significant health risks to people eating wild game. Some state health agencies have recalled venison donated to feed the hungry because of this.
The U.S. Fish and Wildlife Service prohibited use of lead shot for waterfowl hunting in 1991 and there are more than a dozen approved non-lead shot types. More than three dozen manufacturers market non-lead bullets in 35 calibers and 51 rifle cartridge designations, with superior ballistics, accuracy and safety, says Center for Biological Diversity.
Although hunters often cite the difference in price between lead and non-lead ammunition as the reason for not switching, these moves will increase demand and bring down the price.
At least one study finds prices and availability aren't significantly different for the most popular calibers. Read, "Lead-Free Hunting Rifle Ammunition: Product Availability, Price, Effectiveness, and Role in Global Wildlife Conservation":
(Visited 6,699 times, 7 visits today)