Update 12/6/2013:
The vote to weaken Ohio's energy effiiciency and renewable energy standards has been cancelled for this year. While some say it's because the committee doesn't have the votes needed to pass, State Senator Bill Seitz, (R-Cincinnati), counters that he pulled the bill back because there isn't enough time to get it passed this year and that he wants to spend more time "to get this complex subject right."
Seitz says he will continue to work on legislation and potential lawsuits to "reform the current enviro-socialist mandates that have afflicted Ohio ratepayers through hidden charges and fees on their electric bills."
—-
Ohio is benefiting mightily from its laws that foster energy efficiency and renewable energy, but both are under attack from ALEC.
The state's Renewable Portfolio Standard (RPS) requires utilities to source 12.5% of energy from renewables by 2025 and its Energy Efficiency Resource Standard requires them to help customers cut energy use 22% by then.
That's led to over 1000 renewable energy projects since the RPS passed in 2008. To many peoples' surprise, the state's Public Utilities Commission finds that rather than raising energy prices, the projects have stabilized the price of wholesale power in the state.
And that's with renewables only producing about 1% of the Ohio's energy, so far.
On the efficiency side, Ohio's standard, also enacted in 2008, is expected to save ratepayers $5.7 billion by 2020. In the first year alone, utilities saved over 530,000 megawatt-hours, ten times the savings of the previous year.
400 Ohio companies and 25,000 employees now work in the efficiency and renewables industries. The state is a world leader in energy efficient lighting manufacturing.
So far, the state has fought off ALEC bills that roll back these gains, but they are back at it again.
ALEC member State Senator Bill Seitz (R-Cincinnati) (who also serves on ALEC's board) continues to push SB58, which would eliminate the requirement that half the renewable energy be generated in-state, and utilities could opt-out of the efficiency program altogether. Instead, utilities could simply buy credits from a wind farm or solar plant elsewhere.
Another ALEC member, State Senator Kris Jordan (R-Ostrander), introduced a bill to repeal the Renewable Portfolio Standard.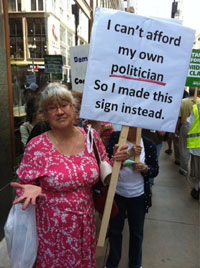 At this summer's annual meeting, ALEC unveiled two new model bills:
"The Market Power Renewables Act," makes investments in renewables voluntary,
"Renewable Energy Credit Act," dilutes RPS mandates by allowing other kinds of energy to be eligible, such as big hydro and biomass.

It also removes caps on the proportion of an RPS that can be met by buying credits, rather than directly providing clean energy. And utilities can buy all the credits they need in advance to meet the full RPS – effectively, they wouldn't have to support any in-state projects.
So far this year, ALEC members introduced over 120 bills in the states, but so far haven't succeeded in eliminating a single state RPS.
Meanwhile, in Michigan, costs for new wind projects are so low that utility Consumers Energy wants to eliminate the monthly surcharge on customers' bills that covers the cost of meeting that state's RPS. It's already cut the surcharge in each of the past two years, from $2.50 a month to just 52 cents.
Read the full story:
Website:
[sorry this link is no longer available]
(Visited 5,023 times, 5 visits today)