If you have a site that's appropriate for an electric vehicle charging station and your business or nonprofit is in an area where Nissan Leafs sell well, you may want to take advantage of Nissan's offer.
Until the end of this year, you can install a charging station almost free of charge, giving the public an easy way to charge, while encouraging others to buy an electric car.
Nissan's EV Advantage program partially subsidizes the installation, in addition to the federal Alternative Fuel Infrastructure Tax Credit, which expires at the end of the year. If you are in a state that has local and/or state tax credits, the net cost could be zero. Oregon, for example, offers up to 35% in tax credits.
It costs about $40,000 to install a charging station. Nissan will kick in $15000 and the federal tax credit can be worth as much as $12,000.
The tax credit covers 30% of the costs for installation up to $30,000 and can be carried forward for 20 years or backward one year.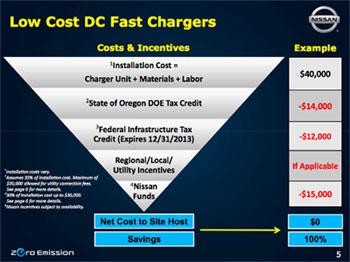 Nissan sites these cities as areas with large concentrations of LEAF owners or where they expect growth: Portland, OR, Seattle, WA, San Francisco, CA, Atlanta, GA, Raleigh-Durham, NC and St. Louis, MO, among other cities.
Nissan is most likely to subsidize locations in multi-family developments, such as condos or apartments and commercial areas like shopping centers, hotels, restaurants, office buildings and hospitals.
There are 34,000 Nissan Leafs on US roads today (75,000 worldwide) – it has a 75 mile range, rated at 115 MPG equivalent). While the growth of fast-charging stations has been impressive, many more are needed, says Nissan.
For more information and to apply, contact David Peterson at Nissan, 615.957.8308:
(Visited 8,297 times, 6 visits today)