Volkswagen has yet to produce a hybrid or electric car, but Europe's biggest carmaker is about to make a splash in that arena.
At the Frankfurt International Motor Show this month VW is showing off its first electric cars, e-Up! and a battery-powered version of the Golf. They are two of 14 models that go on sale next year and if demand is strong, VW says it will roll out as many as 40 hybrids and electrics.
e-Up! goes on sale in Germany next month for $35,700, competing against BMW's first electric car, i3, which is also debuting for the same price.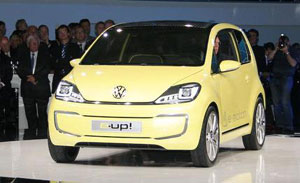 For the first time, every single auto manufacturer is displaying hybrids or electric cars at the show.
"VW, which two years ago said electric cars were lunacy, yesterday announced they will bring out electrics," Andy Palmer, executive vice president of Nissan told Bloomberg. "We have been saying this for around four years now, and everyone has been giggling behind our back. It doesn't look so funny anymore."
In the US, the company makes the Passat in a solar-powered LEED-Platinum factory, but although many automakers are running on renewables in Germany, so far VW uses natural gas in addition to a wind farm it owns. It plans to invest $1.3 billion in renewable energy to help meet its goal of cutting greenhouse gas emissions 40% by 2020.
In Mexico, VW just signed a 20-year power purchase agreement to buy wind energy for all its plants. The 130 megawatts is from La Bufa wind farm, which comes online next year. VW expects to save $3.5 million a year on electricity costs.
Nissan Introduces Electric Taxi
When Nissan won the contract for NYC's new taxis, it said it would use the $1 billion contract to manufacture fuel-efficient minivans that can eventually run on electricity.
Also debutting at the Frankfurt show is Nissan's electric taxi e-NV200. It will be made in Barcelona, Spain and will be on those roads with plans for other major world cities after production begins next year.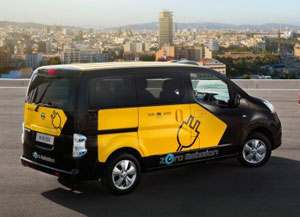 Nissan and Barcelona are jointly promoting the van for taxis and delivery vehicles. Together they plan to devise incentives and expand the local charging network.
The company also plans to begin sales of an electric compact van next year, its second mass-production vehicle after the Leaf. And it has plans for an electric light truck.
In New York City, Nissan is piloting electric LEAFs for use as taxis. In this year's State of the City address, Mayor Bloomberg called for electric taxis to comprise a third of the fleet by 2020. The Long-Term Electric Taxi Task Force is currently working on a strategy to meet that goal.
He wants the City Council to amend building codes so that 20% of all new public parking spaces are wired to charge electric vehicles, creating about 10,000 EV charging spaces within seven years. Right now, there are about 100 public charging spots, and another 120 for the city's EV fleet.
NYC has the third biggest EV fleet in the country. After adding 50 more EVs this year, it will have over 500 EVs.
(Visited 7,699 times, 5 visits today)