Although Norway has stronger winds than neighboring Sweden, it has so far lagged in wind development, but that's about to change.
Eight wind farms have been approved totaling 1.3 gigawatts – an investment of about $3.32 billion for 450 turbines, reports Reuters. They will be built by Norwegian firms SAE Vind DA, Sarepta Energi AS and Zephyr AS, and a transmission line that connects them by state-owned Statnett.
It's the largest onshore wind farm under development in Europe. The first phase will start operating in 2018. When it's complete, it will serve 185,000 households.
One of Norway's wind farms: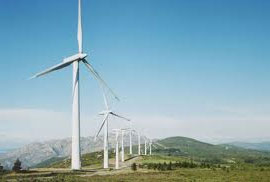 Presently, Norway has just 775 megawatts of wind capacity – supplying 1.1% of its energy – the vast majority of which comes from hydro. Part of the reason it's been slow to adopt wind has to do with lack of transmission lines and long permitting procedures, says Reuters. As of 2012, Sweden has 3.6 GW of wind generating 7.2 terawatt hours a year.
Last year, the government set a target of getting 67.5% of its energy from renewables by 2020 – 3 GW of that from wind.
Norway, the world's third-largest oil exporter, taxes income from oil and uses it to fund the transition away from oil. This year, it doubled the carbon tax to $72 for each ton of carbon emitted.
Sweden is one of the few countries that is still not overshooting its ecological resources.
During his visit to Stockholm this week, President Obama said Sweden could serve as a model for the US for its commitment to greening the economy and tacking climate change.
"Sweden is obviously an extraordinary leader when it comes to tackling climate change and increasing energy efficiency, and developing new technologies. And the goal of achieving a carbon-neutral economy is remarkable, and Sweden is well on its way. We deeply respect and admire that and think we can learn from it," he said.
Sweden is committed to eliminating fossil fuels to produce electricity by 2020 and gasoline cars by 2030. In 2009, Sweden launched the world's first carbon label on foods and all state-owned companies are required to file annual sustainability reports.
(Visited 7,082 times, 1 visits today)