It's about time – McDonald's announced it will no longer use polystyrene packaging – known as Styrofoam – for beverages and will use paper cups instead.
The change applies to all 14,000 US restaurants and is a result of a shareholder resolution proposed by As You Sow in 2011.
The resolution begins by saying: "Whereas McDonald's Corp. has repeatedly emphasized its commitment to environmental leadership, yet continues to use polystyrene-based beverage cups 20 years after phasing out use of polystyrene-based clamshell food containers due to its negative environmental impact …".
The resolution asked McDonald's to re-evaluate its use of foam cups and to develop a recycling policy similar to Starbucks (committed to recycle all paper beverage cups left in its stores by 2015 and gives a discount for bringing your own cup). 30% of shareholders voted yes on the proposal – a strong vote for an environmental proposal and the highest vote to date for any As You Sow proposal on recycling.
Last year, McDonald's piloted the use of a double-walled paper hot cop (like that used at Starbucks), which will now become standard.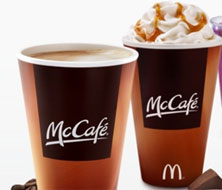 Decades ago, there was a strong move across towns and cities to ban Styrofoam. Seattle, Portland, OR., and 46 counties and cities, including San Francisco, in California have restricted or banned it. NYC's Mayor Bloomberg proposed a ban this year. Restaurants object strongly to bans because the packaging is so cheap and sweats less than paper.
Back in 1990, during the time when styrofoam bans were big news, McDonald's stopped using it for clamshells, but continued its use for beverages. The switch to post-consumer paper – also used for bags and napkins – made the company one of the biggest buyers of recycled fiber, an important contribution to the nascent recycling industry at the time.
Problems with Styrofoam
The ubiquitous packaging is rarely recycled and has become pervasive in the marine environment, says As You Sow. One of the most commonly found trash items on beaches, in the ocean it breaks down into small indigestible pellets that birds and marine mammals mistake for food, resulting in their death. The petroleum-based substance is not biodegradable and hangs around for hundreds of years or creates toxic emissions when incinerated.
Styrene, which is used to make polystyrene, is listed as a possible carcinogen by the International Agency for Research on Cancer. Several epidemiologic studies suggest an association between occupational styrene exposure (through inhalation) and an increased risk of leukemia and lymphoma. Toxic emissions are produced during the manufacturing process as well.
Styrene easily migrates from packaging into foods and beverages, and 100% of Americans have it in their bodies, according to the EPA.
As You Sow is also making progress with Dunkin' Donuts, which plans to phase out foam cups in the next few years. It is one of the leading groups that use shareholder resolutions to encourage environmental progress in corporations.
Dell uses mushroom packaging for its computers instead of Styrofoam and hospitals are moving away from it too.
McDonald's has joined a growing chorus of food retailers, committing to sustainable palm oil and seafood. It serves sustainably sourced seafood and coffee in Europe, and McDonald Cafes serve only organically grown, Newman's Own, coffee in the US. Last year, it held the #11 spot for corporate use of renewable energy.

Read the shareholder resolution:
(Visited 16,522 times, 152 visits today)