Ikea has chosen Britain to launch a new service – in addition to selling furniture and housewares, it plans to sell solar systems at all 17 of its UK stores within a year.
A pilot at a store near London sold a solar system almost every single day.
Britain's solar market "has the right combination of mid-level electricity prices and government-sponsored financial incentives that make investing in solar energy attractive to consumers," Steve Howard, IKEA's Chief Sustainability Officer told Associated Press.
In Britain, homeowners can buy a solar systems without upfront costs – they can get a loan from the government and get paid for sending excess energy to the grid.
Prices have dropped to the point where the payback period is just seven years, he says, and an average family will save 50% on their utility bill. It costs $9200 for a 3.36 kilowatt system in the UK, compared to $13000 in the US.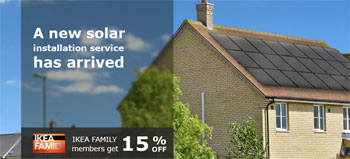 Ikea's installation partner is China-based Hanergy Solar, which also provides on-going maintenance, and energy monitoring.
In the US, Home Depot and Lowe's sell solar systems. Ikea hasn't decided if it will sell systems in the US – they'll decide which countries to sell in on a case by case basis.
For its own energy, Ikea's commitment is to be 100% powered by renewables by 2020; 70% by 2015.
Currently, IKEA gets 27% of its electricity from renewable energy. It owns six wind farms in Europe and solar powers 70% of its stores and distribution centers in the US, many of which are the largest commercial solar installations in those states. It ranks #4 for US commercial solar installations.
(Visited 16,520 times, 5 visits today)