In its latest renewable energy buy, Google is buying the entire output – 240 megawatts – of Happy Hereford wind farm near Amarillo, Texas.
"As part of our quest to power our operations with 100% renewable energy … this is our largest commitment yet; we've now contracted for more than 570 MW of wind energy, which is enough energy to power approximately 170,000 U.S. households," says Google's blog.
Under current policies, which Google is working on changing, it can't consume the energy directly, it has to get if from the grid where Google's Oklahoma data center is located.
Happy Hereford is being developed by a small Native American-owned Chermac Energy, and comes online next year.
Earlier this year, Google invested in another Texas wind farm, its 11th renewable energy project. Altogether, Google's renewable energy investments add up to 2 gigawatts of power at a cost of over $1 billion, just since 2010.
Besides purchasing power and taking stakes in projects, the company invests in promising companies in solar and geothermal and even buys firms with potentially breakthrough technologies, such as Makani Power. $280 million from Google created SolarCity's largest fund for residential solar installation.
This year, Google tied for first place (with Cisco Systems) for leading the tech industry on addressing climate change.
Its investments include some of the biggest, most important projects in the US: the Atlantic Wind Connection, a critical backbone for offshore wind transmission; Shepherds Flat, one of the world's largest wind farms in Oregon; Ivanpah, an enormous solar project in California; and a portfolio of solar plants in Sacramento.  It has 2 megawatts of solar PV on its rooftops and buys renewable energy to power its data centers, especially wind.
Google also plenty of sustainability initiatives at the workplace from serving local, organic food to providing electric vehicle charging on campus (700 stations).  An extensive green roof system is part of its new corporate campus.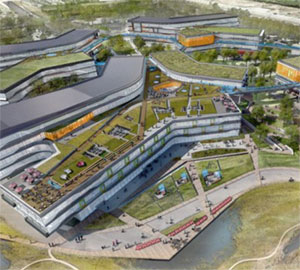 (Visited 64 times, 6 visits today)