Ford Motor Co. is launching a major program for employees to be able to charge electric vehicles (EVs) – adding charging stations at company offices and manufacturing plants.
By the end of next year, it will have over 2100 charging stations across corporate facilities and dealerships in the US and Canada.
And Ford is networking those chargers together allowing it to gather data on charging patterns and the amount of carbon they eliminate.
"Ford's commitment to sustainability extends beyond our fuel-efficient vehicles to include our daily workplace," says Mike Tinskey, Ford global director of Vehicle Electrification and Infrastructure. "We know that a growing electrified vehicle infrastructure is key to making plug-in vehicles a viable option for more consumers. Ford is committed to doing our part to help grow that infrastructure."
Ford currently makes the Focus Electric and two plug-in hybrids, Fusion Energi and C-Max Energi.
This is the Focus Electric: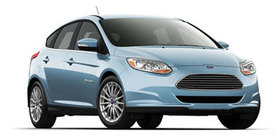 The first four hours of charging are free; Ford estimates it will cost the company about 50 cents to fully charge a vehicle, saving employees up to $2 in gasoline each day.
By charging their cars during the work day, many employees should be able to complete all of their workweek trips without using gasoline, says Ford.
Ford is closely tracking the number of miles drivers are operating in all-electric mode with its MyFord mobile app and so far, customers have logged 30 million all-electric miles and three out of four daily trips without reverting to gasoline.
In August, Ford sold 8,292 EVs and plug-ins in its best month yet.
Workplace charging is regarded as a relatively untapped strategy that could dramatically expand the capacity available to EV drivers.
Earlier this year, 26 major companies announced they would invest in the Department of Energy's Workplace Charging Challenge – among them Coca-Cola, Dell, Facebook, General Electric, Hertz and Google, which already has 700 charging stations. Google is committed to have chargers at 5% of all parking spaces at its headquarters. It has a fleet of 56 plug-in vehicles included in its employee car-sharing program. 500 employees own EVs, says Google.
In addition to Bank of America's workplace chargers, it offers  $3,000 to employees that buy a plug-in electric vehicle.
There are roughly 20,000 public charging stations in North America right now.
Automakers on track for 35 mpg 
In related news, the US automotive industry reached a new high for vehicle fuel efficiency in August – 24.9 miles per gallon (mpg) for cars and light trucks.
Although still not particularly impressive, that's almost 5 mpg better than the average for the industry in 2007, when it was  – 20.1 mpg. And it's slightly better than the 23.8 mpg the industry averaged in 2012.
Since the 2007 model year, vehicles in the US get 13% better fuel economy and produce 16% less carbon emissions.
That's because of more stringent corporate average fuel economy (CAFE) standards put in place by the Obama Administration in 2009. The law requires the industry to average 35.5 mpg by 2016.
Importantly, the industry is on track to meet those CAFE standards. To get there, automakers have been improving the efficiency of conventional gasoline models and greatly expanding the number of hybrids and EVs on the market.
But experts question whether the industry can meet the next round of standards – 54.5 mpg for model years 2017 – 2025.
If they do, the auto industry will cut US oil consumption by more than 2.2 million barrels a day and greenhouse gas emissions from vehicles will be cut in half by 2025. That is more than all of the carbon dioxide emitted by the US in 2010.
Meanwhile, as US fuel consumption slows, it's increasingly rapidly in "BRIC" countries – especially China, but also Brazil, Russia and India. They surpassed the US in liquid-fuel consumption in 2011. Transportation fuels account for 28% of the world's greenhouse gas emissions, in addition to health-harming air pollution.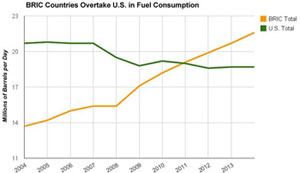 (Visited 4,382 times, 4 visits today)