Microgrids are fast becoming an important source of independent, reliable power during times when the grid is stressed or down.
Sandia National Lab has designed microgrids that are running at over 20 military bases in the US and now, a US Navy project is the first to enhance their impact by connecting several of them.
In what's called the military's first secure, centrally managed microgrid, three nearby microgrids in San Diego are being tethered together.
Software from Power Analytics Corp connects and manages the microgrids at three Naval bases in San Diego: a hospital at Naval Base San Diego; and data centers at Naval Base Coronado and Naval Base Point Loma.
The three bases now have the grid controls and on-site solar and energy storage. They are managed from a central location, stabilizing power sources and facilitating integration of more renewable energy, says Power Analytics.
"We're excited to help the Navy maximize the effectiveness of its existing power system and easily integrate more renewable energy sources," says Karen Cronin, vice president for Power Analytics. "Through this project, Power Analytics will provide the capability to share power resources across the bases, allowing them to have both a more reliable power system and reduced energy costs."
San Diego-based Power Analytics is a long-time partner of the Navy – its software is used on ships to manage self-contained nuclear or diesel generation resources. It designed the three microgrids that are now being linked.
Other companies developing military microgrids include SAIC, Lockheed Martin, Raytheon, Boeing and General Electric. The Department of Defense and Department of Energy are working together to standardize microgrid technologies.
Microgrid map from Greentech Media: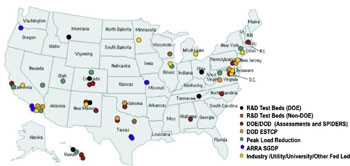 Producing standalone, independent power is finally catching on in the US for several reasons: increasing problems from an inefficient, unreliable and aging grid; newly available competitive technologies – renewable energy and storage; and the need for protection against increasingly frequent, extreme weather.
Connecticut is the developing the first state-wide microgrid and in July, one of the first commercial-scale microgrids came online in the US. It's in Maryland, supporting a solar array.
(Visited 6,990 times, 9 visits today)