For decades, New Orleans has relied on levees and pumping systems to protect it from floods, but a new urban water management plan would flip that strategy upside down.
Instead of creating even higher, stronger levees – effectively walling in the city to keep water out, the idea is to make use of existing levees and restored wetlands to manage the flow more sustainably. Doing so would create a new city waterscape akin to that of Amsterdam – one dotted with a "living" network of ponds and canals that are regularly recharged.
"The Greater New Orleans Urban Water Plan serves a symbiotic dual purpose, simultaneously preserving the value of businesses and communities," says Michael Hecht, President and CEO of Greater New Orleans (GNO), the organization proposing this regional development strategy. "Implementation of the Urban Water Plan will make Greater New Orleans a better place to live and work, while building our new brand as national 'water experts' – something clearly to be in demand in a world of increasing weather volatility."
The Urban Water Plan addresses a historical problem that will only grow worse through the effects of climate change.
Many cities face rising waters due to climate change and are actively planning for a wetter future with climate adaption strategies.
But New Orleans' problem is particularly acute. Built on swampland and dotted by canals that are prone to flooding (like the Jefferson Lowlands system pictured below), its only recourse for handling heavy rains or rising seawater is to pump water out of its streets and communities into nearby Lake Pontchartrain, until it overflows back into the city again.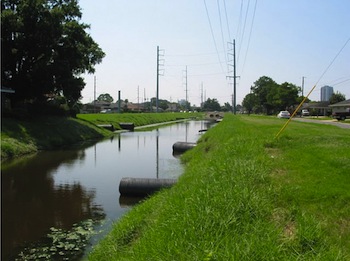 This system all but failed during the devastating Hurricane Katrina in 2005 – eight years later, many of the hardest hit areas of the city still haven't been rebuilt.
"St. Bernard Parish is the owner of hundreds of vacant lots, all because of Hurricane Katrina flooding, and we are looking for ways to use the lots to benefit the neighborhoods in which they're located," says Parish President David Peralta. "Learning how to retain and mitigate some of the flooding that we have in neighborhoods will go a long way in improving the quality of life for the area."
The GNO plan, created by New Orleans-based Waggonner & Ball Architects along with a team of Dutch water infrastructure experts, calls for an urban landscape filled with rain gardens and bioswales, interconnected with canals and ponds.
The plan could bring a projected $22 billion in economic benefits to the region over the next 50 years, projects GNO. That includes not having to spend a projected $8 billion on future flood-related damages and $2.2 billion on infrastructure costs for cracked pipes and building foundations damaged by sinking ground. It could also increase property values by creating new waterfront areas in the Orleans, Jefferson and St. Bernard parishes, according to the organizers.
The New Orleans plan starts with seven demonstration projects across the three parishes that would cost $6.2 billion, each showcasing a different water management approach.
One example is the Lafitte Blueway (pictured below), which would recharge groundwater as it winds through the city, restoring the historic connection between the Bayou St. John and the French Quarter.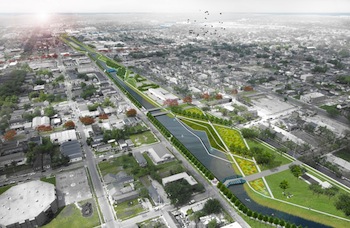 Another idea is the proposed 25-acre Mirabeau Water Garden, a lowland composed of a series of open-bottom beds and filled with organisms that filter the water before it runs into a nearby fresh-water swimming pool.
Other plans call for designing canals with more gradual edges than current designs. Not only would this make them more aesthetically "inviting," it would allow water to be raised and lowered more easily on a seasonal basis, as dictated by rainfall levels.
Last year, the federal government spent more on disaster cleanup related to extreme weather events — about $100 billion — than it did on transportation or education. Creative resiliency plans can go a long way toward reducing taxpayer burden while creating new economic models for cities and communities that are vulnerable to rising waters due to the effects of climate change.
"Last month the Hurricane Sandy Rebuilding Task Force, which I've had the honor to chair, released a Rebuilding Strategy that will serve as a model for communities across the country as they adapt to more frequent and severe storms and flooding events. The Urban Water Plan not only aligns with our Rebuilding Strategy but it too serves as a national model for resilience," says US Housing and Urban Development Secretary Shaun Donovan, who spoke at an event unveiling the idea for New Orleans.
Read the proposed urban water management plan for New Orleans, "Living With Water":
(Visited 6,652 times, 63 visits today)