IPOs
In the first-ever IPO for a US wind farm developer, Pattern Energy Group raised $352 million in Friday's offering, one of the most heavily traded stocks on Nasdaq.
Pattern, which is profitable and has solid cash flow, sold 16 million shares at $22 each – it's market cap is $1.25 billion.
San Francisco-based Pattern owns and operates eight wind farms in the US, Canada and Chile, with a total portfolio of 1,041 MW. Revenues are up 62% – to $102.5 million – for the first half of 2013, with net profits at $29.14 million compared to $6.44 million a year earlier.
Patter's Spring Valley wind farm in Nevada: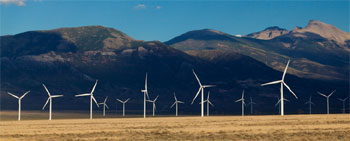 New Cleantech Funds Form
After a $100 million fund formed last week to support renewable energy development in Southeast Asia, another fund has raised $130 million to invest in projects.
Armstrong South East Asia Clean Energy Fund will invest in small-scale renewable energy and resource efficiency projects in emerging markets. It already has a commitment to provide $30 million for a pipeline of solar PV and biogas projects in Thailand, the Philippines and Indonesia.
Private equity firm Hudson Clean Energy is launching a $150 million "Hudson Solar Infrastructure Program" to invest in solar PV projects worldwide.
"Our goal is to provide our investors access to high-quality solar PV projects that generate a steady stream of long-term cash flows at attractive, risk-adjusted yields," says Daniel von der Schulenburg, Vice President of Hudson. "In contrast to many other funds, we are willing to fund the construction phase as well as acting as long-term project equity in solar PV projects across the globe."
Funding Rounds
Small hydro owner and operator Eagle Creek Renewable Energy raised $100 million to expand across North America. Its portfolio of 39 hydro plants in seven states totals 90 megawatts and it is developing three projects in the Northeast that will add 4 more megawatts.
eSolar, which develops modular, scalable concentrating solar power (CSP) technology, closed another $22 million to support expansion into the Middle East and North Africa, and develop its next-generation heliostat. Its standardized, modular technology makes it cheaper and quicker to build CSP plants and it includes energy storage with molten salt technology.
Solexel raised another $40 million for a total of $54.7 million for its solar crystalline silicon PV cells and modules. The high-efficiency, low-cost technology is made from silicon gas instead of silicon.
Cool Planet Energy Systems, which makes small-scale, modular bio-refineries that convert non-food biomass into fuels and biochar, closed another round of $19.4 million after raising $29.9 million in a D round a few months ago. The funding, which now totals about $60 million, will partially go toward its first commercial plant in Louisiana.
The company believes it can sell biomass-based gasoline for about $1.50 per gallon because of its unique distributed energy approach which brings production right to the fuel source.
Investors from around the world have a stake in the Cool Planet, including Google Ventures and corporations GE, ConocoPhillips and NRG Energy.
Highlights include VarentecTM, which is getting an $8 million infusion from Bill Gates and Khosla Ventures in a Series B round. Its grid optimization software provides the "eyes, brain and muscle," enabling real-time management of the power network, the company says, for both utilities and industrial users.
Its Edge of Network Grid OptimizationTM (ENGOTM) solves grid challenges such as optimization, energy conservation and integration of rooftop PV. The grid monitoring and control software delivers energy savings, voltage & VAR control, demand management, improved asset utilization, and grid visibility for utilities and industrial applications.
tado, one of the many companies that want to help people save energy, received $2.6 million in a Series A round for its software that controls home temperature through your smart phone.
And yet another rideshare company has raised a bundle. Uber, "which connects you with a driver at the tap of a button" secured a whopping $258 million from venture capital firms include Google Ventures. And we thought $80 million for competitor Lyft was a lot!
Overall, venture capital investments were up 56% globally for the second quarter and 71% of investments were in North America.
(Visited 5,941 times, 10 visits today)