California has passed – and the Governor has signed – the state's first law on natural gas fracking – and neither the oil industry or environmental community are happy about it.
Starting next year, the state's vast Monterey Shale reserve is officially open to regulated drilling: drillers must get a permit before they can frack and must notify neighbors; they must monitor ground water and air quality, and disclose the chemicals they use.
By 2015, state officials must complete a study that evaluates the risk of fracking.
The intention of the law is "increase transparency, accountability and protection of the public and the environment," according to State Senator Fran Pavely, who sponsored it. Actually, it is "so watered down as to be useless," says the LA Times in an editorial and the environmental community.
As in New York, there should be a moratorium until potential impacts are known – not after the fact – and the law does nothing to protect the air and water or even against seismic activity in the earthquake-prone state, say anti-fracking activists and the LA Times.
But if these watered down regulations are too much for the natural gas industry, which got them diluted in the first place, but continues to push back against them
The map below, from the US Geological Survey, shows that 300 earthquakes equal or higher than magnitude 3.0 have occurred from 2010-2012, compared to a national average of 21 earthquakes a year from 1967-2000. Research links the greater frequency of earthquakes to oil and gas drilling.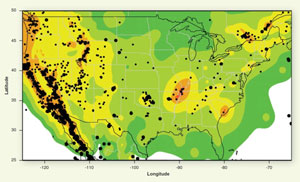 75% of Californians say they're concerned about fracking and over half favor a moratorium, according to a Natural Resource Defense Council poll. About 200,000 people have signed petitions to ban fracking in the state.
Unregulated fracking has been going on for years in California, mostly outside of Monterey Shale – which could contain 15.4 billion barrels of oil, two-thirds of US shale reserves. Some question how difficult it will be to exploit that enormous reserve, however. Besides being a hot spot for earthquakes, the disjointed land may be too unpredictable to make widespread drilling economical.
In a recent watershed decision on fracking, a federal judge – for the first time – ruled that leases auctioned in California were illegal because environmental impacts were not considered.
Although fracking is tied to a litany of environmental and health problems, add another to the list: what happens in the event of floods? That question is being answered in Colorado's current "biblical" floods which have inundated oil fields. There are 50,000 oil and gas wells in the flooded area – early reports suggest a significant number have been impacted – will hydrocarbons and chemicals leach into the water?
(Visited 4,278 times, 1 visits today)