Over the past 20 years, many of the world's biggest corporations have committed to seriously address climate change and have followed that up with targets and initiatives.
Most companies are criticized for moving too slowly, but even that progress is being undermined by just 50 corporations which, it turns out, produce 75% of greenhouse gases of the 500 biggest publicly traded companies – the FTSE Global 500, reports the CDP (formerly Carbon Disclosure Project) and PwC.
These grand polluters – primarily in the energy, materials and utilities sectors, have increased emissions 1.65% over the past four years, the equivalent of adding over 8.5 million pickup trucks to the roads or supplying electricity to 6 million homes for a year, according to the US EPA. And the 10 biggest polluters have increased emissions 53% since 2009.
Some of those 50 grand polluters make the news for their sustainability efforts, such as Walmart, which has been touting a variety of important initiatives – but still, emissions creep up. Same for Federal Express. Perhaps this is because of Walmart's sheer size and FedEx's dependence on fuels.
At least 17 of the worst 50 are US companies, many of them in the oil industry: Exxon-Mobil, Chevron, ConocoPhillips, Apache, Devon Energy and Occidental Petroleum. Other companies include Carnival, Air Products & Chemicals, Dow Chemical, DuPont, Praxair, AT&T, American Electric Power, Duke Energy and Exelon.
These companies lead their respective industries on emissions: Exxon-Mobil, Walmart, Carnival, Bank of America, Bayer, Samsung and Verizon.
Which companies are the "good guys" – ranked at 99 or 100 (out of 100 points) for meaningful greenhouse gas reduction strategies, transparent disclosure or both?
The list includes a number of auto companies: Honda, Nissan, Volkswagen, BMW and Daimler. Among banks there's BNY Mellon, and in technology, Cisco Systems, Royal Philips, and Hewlett-Packard, among the early pioneers of corporate sustainability. Gas Natural SDG and Nestle are also on the list.
Among the companies that declined to send information for the report are Amazon.com and Apple.
One of the keys to corporate progress on climate change is where incentives are provided to top executives, notes CDP, which is shown here by industry sector: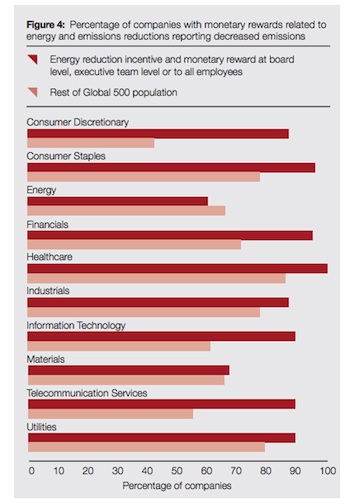 Another key conclusion of the report is that although many corporations are doing a much better job of measuring and reporting on emissions, they still leave out what could amount to 47% of total emissions.
While 72% of companies measure emissions associated with business travel, that equates to just 0.2% of the sample's indirect emissions. In the financial sector, for example, just 6% disclose emissions associated with their investments, which make up the majority of their emissions. Bank of America is a good example – it touts its environmental progress while continuing to invest in coal.
Another recent study that evaluated only US companies comes to the same conclusions – a small minority of companies are responsible for the majority of pollution, be it air, water or greenhouse gas emissions.
CDP conducts this annual analysis for use by its 722 institutional investor-members, representing $87 trillion in invested capital.
America's Dirtiest Power Plants
If you live in Texas, Ohio and Florida, chances are you live near one of the largest polluters in the US because that's where they are concentrated, reports Environment America Research and Policy Center, which ranks the 100 dirtiest power plants.
Power plants are the single-largest source of US carbon pollution – responsible for 40% of emissions.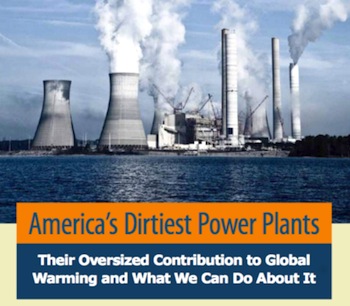 The five worst ones are:
Georgia Power: Plant Scherer (Georgia)
Alabama Power Co.: James H. Miller Jr. Plant (Alabama)
Luminant: Martin Lake (Texas)
Ameren: Labadie (Missouri)
NRG Energy: WA Parish (Texas)
Any day now, the Environmental Protection Agency (EPA) will release carbon regulations for new power plants, in what will become another highly contest political battle on Capitol Hill.
Download the complete ranking of America's dirtiest power plants:
Website:
[sorry this link is no longer available]
(Visited 7,525 times, 18 visits today)