This is turning out to be a big year for renewable energy IPOs.
Most of the IPOs have been for companies that buy and operate existing wind and solar plants, but Pattern Energy Group hopes to raise $345 million to develop and own wind farms.
Based in California, Pattern owns and operates a wind portfolio of about 1150 megawatts (MW) – some of which is under construction – across eight wind farms in the US, Canada and Chile. It has a development pipeline of 3000 MW.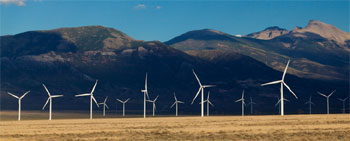 They plan to add 300-400 MW of wind generation capacity a year and build transmission projects. On the transmission side, Pattern says:
"In some cases, the projects we pursue are designed to make the existing transmission system operate more cost effectively. We do this by installing new transmission capacity to relieve congestion in the existing system and by giving consumers access the lowest cost generating resources. Other times, we develop new transmission projects to provide areas with abundant resources for renewable energy generation access to the consumer markets."
For the second quarter of 2013, the company posted revenues of $58.7 million and $44.3 million in profit.
Pattern is developing four wind farms with Samsung in Ontario for a total of 870 MW, enough to power over 300,000 homes.
When Samsung decided to build four manufacturing plants in the province, it signed an agreement with the government to develop up to 2500 MW of renewable energy projects, while creating about 16,000 direct and indirect renewable energy jobs.
Other wind farms include:
Hatchet Ridge: 101 MW in California
Spring Valley: 151.8 MW, Nevada's first wind farm
Gulf Wind: 283.2 MW on the coast of South Texas
St. Joseph Windfarm: 138 MW in southern Manitoba, Canada
Pattern just started construction of the 218 MW Panhandle Wind Project near Amarillo, Texas with financing from General Electric (also supplying turbines) and Citigroup.
The company seems to be especially conscious of environmental factors – it chose to abandon the planned 100 MW Yolo County wind project in California because of its potential negative impact on birds, including eagles.
And it won the highest award from the California Association of Environmental Professionals for its "Outstanding Environmental Analysis" of the Ocotillo Wind project.
Pattern is supported by $800 million in equity investment.
(Visited 6,036 times, 10 visits today)