We've written a lot about Tesla Motors (Nasdaq: TSLA) in the past few months because the company has had a lot to crow about – since it surprised everyone by reaching profitability, it's stock has soared so much that it's now on the Nasdaq 100.
Now, there's more really strong news – Tesla's Model S has been rated as the SAFEST car EVER!
The National Highway Traffic Safety Administration scored the car as an unheard of "five stars" in every single category (only 1% of cars). In fact the car scored so high that the final, combined score beats 5 stars.
Its final 5.4 rating is the highest ever, making an electric car the safest on the road, including vans and SUVs. The score represents the probability of injury from front, side, rear and rollover accidents.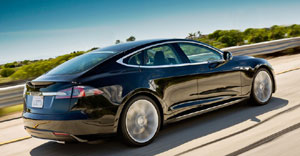 There's good reason for that, says Tesla. Since an electric car doesn't have a big gasoline engine under the hood, there's a much longer "crumple zone" to absorb high speed impact from the front.
The Model S motor is only about a foot in diameter and is mounted close to the rear axle, and the front section that would normally contain a gasoline engine is used for a second trunk.
Electric is also an advantage in rollover collisions. Because the battery pack is mounted below the floor pan, it provides a very low center of gravity, which simultaneously ensures exceptional handling and safety. During testing, the car refused to roll over using standard methods, says Tesla.
Tesla, the best performing automaker this year, has seen its shares jump to $147, up almost 300% so far in 2013.
Consumer Reports gave the Model S their highest rating for a luxury sedan, 99 out of 100 points, and it won the coveted "Car of the Year" award from Motor Trend magazine.
In related news, the California New Car Dealers Association reports that hybrid cars comprise 7% of all cars sales in the state, with 59,300 sold in the first half of 2013 (up from 4.8% in 2011).
Electric cars are out-selling plug-in hybrids with 1.1% of the market (9,708 sold) this year, and Tesla took 0.6% of all new light-duty vehicles in California, with 4714 sold in the first half of 2013.
The Model S ranks third in the luxury and sports segment this year, lagging only the Mercedes E-Class and BMW 5-Series, according to California Auto Outlook.
(Visited 5,394 times, 8 visits today)