A new Solar Energy Zone in California will open public lands to utility-scale solar and geothermal development.
The Department of Interior (DOI) has approved the West Chocolate Mountains Renewable Energy Evaluation Area (REEA) on public lands in California's Imperial Valley. The landscape- scale assessment shows this area to be best suited for solar and geothermal. Large-scale wind was rejected because of potential conflict with military training operations, BLM told the NY Times.

DOI's Bureau of Land Management (BLM) estimates the 64,000-acre area has the potential for 3.33 gigawatts (GW) of solar and 150 megawatts (MW) of geothermal.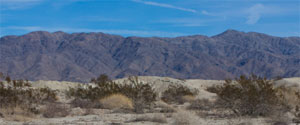 The area will be a new Solar Energy Zone – areas prioritized for utility-scale solar development on public lands in six Western states. By identifying suitable areas in advance, rather than assessing each developer's proposal, appropriate development is facilitated and streamlined. These lands have strong solar potential, few resource and wildlife conflicts and access to existing or planned transmission.
Also in California is the Desert Renewable Energy Conservation Plan, which covers over 20 million acres in the Mojave and Colorado Deserts. A federal and state government collaboration is identifying "development focus areas" for renewable energy while providing for conservation and management of important plant and wildlife communities.
The Western Solar Plan, approved in October 2012, creates 17 Solar Energy Zones with incentives for development there and a process for considering additional zones. Interior approved an 18th zone in January, with the Arizona Restoration Design Energy Project. The West Chocolate Mountains REEA is the third Solar Energy Zone in California and brings the national total to 19.
BLM also approved a 40 MW geothermal project in Mono County, California, the Casa Diablo IV Geothermal Energy Project, constructed by Ormat (Nasdaq: ORA). It will supply energy for 36,000 homes.
Including this latest geothermal project, Interior has approved 47 solar, wind and geothermal utility-scale projects on public lands since 2009, including associated transmission corridors and infrastructure to connect to power grids. When completed they will provide over 13.3 GW of energy – enough for 4.6 million homes – while supporting about 19,000 construction and operations jobs.
Some of the major projects recently greenlighted are the 750 MW McCoy Solar Energy Project (Blythe, California); 150 MW Desert Harvest Solar Energy Farm (Desert Center, California); and 200 MW Searchlight Wind Energy Project (Seachlight, Nevada). Together, these fast-tracked projects will produce 1.1 GW – energy for 340,000 households – and create 1000 renewable energy jobs.
(Visited 6,464 times, 4 visits today)