The Moapa Band of Paiute Indians are turning to renewable energy development in a big way and are about to start construction on their first utility-scale solar plant.
The 250 megawatt (MW) project is the first of many projects on their land in Nevada – they have plans for as much as 1.5 gigawatts of projects, selling excess energy to utilities across the southwest. This first plant will serve 100,000 households.
The project is being developed with the assistance of the U.S. Department of Energy's Tribal Energy program.
The Moapa reservation spans 70,000 acres north of Las Vegas – more than enough land to support that much energy development.
The tribe is doing the development through a joint venture with Herbst Energy (Nevada's largest fuel retailer) and Stronghold, the largest minority woman-owned business in the US, creating Moapa Energy – it is majority owned by Maopa.
"Generating clean, emissions-free solar power on our reservation has long been a goal of the Moapa people, and is true to our heritage of environmental consciousness, respect for the Earth and reverence of our sacred lands," says Eric Lee, vice chair, Moapa Band of Paiutes. "We are thrilled to be working with Herbst Energy and Stronghold Engineering to bring this ground-breaking partnership to fruition at a time when the nearby Reid-Gardner coal plant is being decommissioned."
Moapa Energy says its will use natural gas in the evening to complement the solar PV electricity generation during the day.
Last year, the Department of Interior approved the Moapa Solar Project, a 250 MW half solar PV and half concentrating solar plant. The first large-scale solar project on tribal lands, it is being built on 2000 acres on the Moapa River Indian Reservation and on federal lands.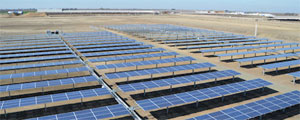 Construction starts in a matter of weeks. NY-based K Road Power is leasing the land for 50 years and the electricity will be sold to Los Angeles District of Water and Power under a 25-year power purchase agreement. It is K Road's biggest project to date and one of the biggest in the world.
Update September 26: First Solar bought the project from K Road and will design and build it using its Cadmium Telluride (CdTe) thin film solar modules.
In July, six Sioux tribes announced they would join in developing the largest wind farm in the US and one of the world's largest. A much smaller project is in the planning stage in Oklahoma, also bringing together five tribes, led by Cherokee Nation.
The Council of Energy Resource Tribes (CERT), a group of 57 Native American tribes, signed a long-term development agreement for up to $3 billion in biofuels and bioenergy projects across tribal lands in California.
(Visited 19,646 times, 20 visits today)