Update September 10:
17 wind companies have also been selected to build wind turbines at Department of Defense facilities around the country.
Companies selected are: Acciona Energy North America Corporation, Cobra Industrial Services, Inc., Dominion Energy, Duke Energy, EDF Renewable Energy, Emerald Infrastructure, Enel Green Power North America, EverPower Wind Holdings, First Wind, Iberdrola Renewables, LTC Federal, NorthlandPower, Siemens Government Technologies, Stronghold Engineering, Turn Key Power Consortium, VERT Investment Group, and West Texas Power Company.

—
Last year, the US Army announced that it would purchase $7 billion worth of "reliable, locally generated, renewable and alternative energy" through 2030.
Companies that will supply geothermal have already been selected, and now so too have solar contractors. Wind and biomass vendors will be awarded by year end.
22 solar companies have been pre-qualified to compete for Army contracts, streamlining the acquisition process.
"By pre-qualifying companies under each technology and awarding the contracts to them, we are situated to more quickly award task orders for individual future projects being developed by the Army or Department of Defense (DoD)," says Col. Robert Ruch, commander, U.S. Army Engineering and Support Center, Huntsville.
The Army's Fort Bliss base in Texas has 13.4 megawatts of solar PV on rooftops as part of Project SolarStrong, seen in this photo: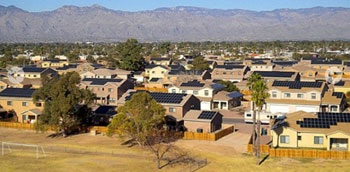 The Army plans to purchase renewable energy under 30-year power purchase agreements (or less) from private contractors. The government isn't looking to build or acquire its own generation assets. Contractors will finance, design, build, operate, own and maintain the energy plants – and sell the energy to the Army.
The solar companies are:
Acciona Energy North America Corp, Chicago, IL
Apex Wind Energy Holdings, Charlottesville, VA
Borrego Solar, San Diego, CA
Cobra Industrial Services, Houston, TX
Dominion Energy, Richmond, VA
Element Power US, Portland, OR
Emerald Infrastructure, San Antonio, TX
Enel Green Power North America, Andover, MA
Energy Matters, Arlington, VA
Gehrlicher Solar America Corp, Springfield, NJ
Johnson Controls Government Systems, Milwaukee, WI
Lend Lease, Nashville, TN
LTC Federal, Detroit, MI
New Generation Power, Chicago, IL
NRG Energy, Princeton, NJ
Photon Finance, SunPower, Mountain View, CA
Siemens Government Technologies, Arlington, VA
Silverado Power, San Francisco, CA
Solar Power Ventures, Arlington, VA
Standard Solar, Rockville, MD
Sunpower Corp, Richmond, CA
Washington Gas Energy Systems, McLean, VA
In 2011, the Army announced that six bases would target net- zero energy, another six net-zero water and another six net-zero waste.
In April, the DoD set a goal of deploying 3 gigawatts (GW) of renewable energy by 2025, enough to power 750,000 homes.
Each military arm committed to deploying 1 GW. That represents 25% of the military's energy use and will cost $10 billion a year.
The Department of Defense is by far the largest energy consumer in the federal government and one of the top water polluters in the US.
(Visited 7,113 times, 12 visits today)