The UK government has approved plans for the world's largest offshore wind farm, the Triton Knoll Wind Farm, off the coast of England.
RWE AG will built the 1.2 gigawatt (GW) project. 288 turbines will supply electricity to 820,000 homes.
It will cost £3.6 billion – $5.4 billion – and will create 1,130 jobs, the UK government says.
Triton will be twice the size of another offshore wind farm that officially opened last week – the 630 megawatt London Array wind farm is currently the world's largest, and has been operating since April. 175 wind turbines are powering 500,000 homes. This is the first phase of the project, installed in just two years – another 200 MW will be added in the next two years.
The UK ranks first in the world for offshore wind – with 3.3 GW of installations, it has double the rest of the world combined.
And the government recently announced a new subsidy program to spur another 8-16 GW of capacity by 2020.
Under the government's Electricity Market Reform program, it offers offshore wind developers triple the market price for power they generate.
That means, starting next year, offshore wind plants can earn $237 per megawatt hour (MWh) compared to $151 per MWh for onshore wind. Average electricity prices in the UK are $47.80 per MWh over the past year, according to Bloomberg New Energy Finance.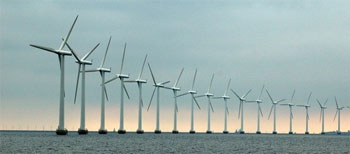 And an even bigger offshore wind farm than Triton Knoll is in the works, if it can get past Donald Trump, a one-man obstructionist, who doesn't want it to impede the view from his enormous golf and hotel development which never should have been approved.
The 1.5 GW project has been approved by the local government in Scotland. The 339-turbine project would provide power for 40% of the homes in Scotland.
Meanwhile in the US, Norway's Statoil announced last week that it is delaying – and may abandon – the $120 million pilot offshore floating wind project in Maine because of uncertainty created by Tea Party Governor LePage.
As for the long-delayed Cape Wind project off the coast of Massachusetts, it continues to edge toward construction, and is now focused on beating the expiration of the wind tax credit at the end of this year.
Globally, there will be 15.4 GW of offshore wind capacity by 2015, according to Bloomberg New Energy Finance. Europe will maintain its lead, with 76% of the total.
(Visited 3,994 times, 5 visits today)