Gina McCarthy has just been confirmed by the Senate as the head of the Environmental Protection Agency in a vote of 59-40.
Earlier today, the Senate cleared her for a vote ending the Republican filibuster that held up her confirmation – it's been 154 days since President Obama nominated her for the position.
McCarthy is widely viewed as extremely qualified for the job, having headed EPA clean air division since 2009, where she played a key role in crafting the widely lauded fuel economy standards and new rules that restrict soot, mercury and other toxics and greenhouse gas emissions from new coal-fired power plants.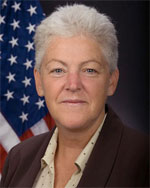 The next step is to regulate emissions from existing plants – the biggest source of US greenhouse gas emissions – that will meet tough opposition from the GOP and many business groups.
She is known for being smart and practical and for working well across the aisle, having worked under five Republican governors.
Despite broad support from bipartisan politicians, industry leaders, and the environmental community, McCarthy has faced significant partisan obstruction since her nomination. She responded to more than 1,100 questions – nearly four times that of any previous EPA nominee.
The only Republicans to vote for her are: Lamar Alexander and Bob Corker (Tenn.), Susan Collins (Maine), Jeff Flake and John McCain (Ariz.) and Kelly Ayotte (N.H.).
Learn more about Gina McCarthy.
Although the EPA is probably the GOP's favorite target because of its "job-killing" regulations, the Office of Management and Budget's (OMB) annual report to Congress rates it as the most effective federal agency. Benefits outweigh costs by more than 10 to 1 for all major EPA regulations adopted in the past decade.

Also today, Thomas Perez was confirmed to lead the Labor Department on a 54-46 party-line vote, after that filibuster was cleared.
Four top Obama administration posts have been approved this week after Republicans finally agreed to lift their filibusters on every cabinet nominee when they were threatened by changes in the filibuster rules.
In a time of relentless obstructionism to anything and everything, it feels like a breath of fresh air when something gets done.
(Visited 3,163 times, 1 visits today)