An elementary school on Staten Island will be the net-zero energy school in New York City (NYC) and the Northeast, and one of the few in the world.
The 68,000-square-foot, two-story building will serve 444 pre-kindergarten through fifth grade students. Construction began just a few days before Hurricane Sandy hit – it won't be completed until 2015.
Designed to comply with NYC School Construction Authority guidelines instead of LEED, the project will be the first the Authority's "sustainability lab." The school is being designed to use half the energy of a typical NYC public school.
The design features what are becoming standard net-zero practices: siting the building to maximize passive solar and covering the building with rooftop solar PV for electricity, as well geothermal for heating and cooling and thermal solar for hot water.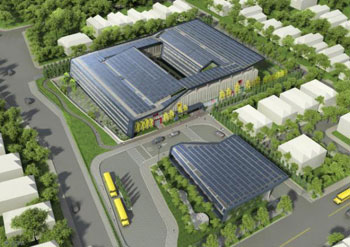 The courtyard-shaped building has an ultra-tight high-performance building envelope, daylit corridors, energy-efficient lighting, efficient kitchen equipment, energy recovery ventilators and demand-control ventilation, and a greenhouse and vegetable garden.
About a dozen other net-zero energy schools are completed or under construction. Schools are good candidates for net-zero energy because they naturally use less energy than other kinds of buildings, consuming about 17% of total US non-residential energy, says architect Paul Hutton. The days are short, there are long vacations and schools are often used less during the summer.
Other net-zero schools are:
Prairie Hill Learning Center, Roca, Nebraska

Putney School Field House, Putnam, Vermont

Marin Country Day School, Corte Madera, California

Hayes Freedom High School, Camas, Washington

Evie Garrett Dennis PK-12 School, Denver, Colorado

Centennial PK-12 School, Centennial, Colorado

Richardsville Elementary School, Bowling Green, Kentucky

Kiowa County K-12 School, Greensburg, Kansas

Sangre de Cristo PK-12 School, Mosca, Colorado

Lady Bird Johnson Middle School, Irving, Texas

Colonel Smith Middle School, Fort Huachuca, Arizona
The 119-acre College of the Desert in Palm Desert, California, will be net-zero energy and water.
Net-zero energy buildings are one of the hottest trends this year in green building and we've been seeing emerge in buildings ranging from a residential community at the University of California, Davis to the San Francisco 49ers Santa Clara Stadium stadium.

California and the EU have passed laws requiring net-zero buildings.
Read more about net-zero schools:
(Visited 20,917 times, 2 visits today)