Green technology investors with long memories tend to shudder when they hear the words 'fuel cells' – billions of dollars have been lost over the years betting on what was once the future of sustainable transport. Anyone remember Ballard?
But the technology is back on the agenda, with GM, Honda last week announcing plans to jointly develop fuel cell technology for vehicles. They follow announcements from Toyota, Hyundai and others in the past year.
GM and Honda say they will collaborate to develop "next-generation fuel cell system and hydrogen storage technologies," aiming for "the 2020 time frame." Their goal is to bring down the cost of the cars and to address fueling infrastructure.
They plan is to build on each others' technologies and share suppliers to help bring down the cost of fuel cell cars. The end result will be a common powertrain with standard components that can build toward economies of scale.
Honda has been working on the technology for a decade in its FCX Clarity – it's three times as fuel-efficient as a conventional vehicle and twice that of a hybrid, Honda claims.
GM's Project Driveway program, launched in 2007, has accumulated nearly 3 million miles of real-world driving in a fleet of 119 hydrogen-powered vehicles, more than any other automaker.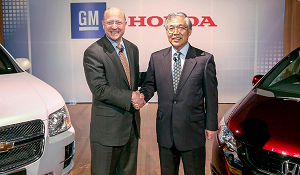 "We're talking about a complete sharing of all of our respective intellectual properties on the subject," Steve Girsky, GM's vice chairman, told reporters, according to Bloomberg. "The cost of such technology has not come down as far as it must to become more commercially viable."
Fuel cells generate electricity by combining hydrogen with oxygen – because the only emission is water, the technology has long been the holy grail for transportation. If the hydrogen is produced using renewable electricity, they are close to being zero emissions.
They have an advantage over electric battery vehicles in that they currently offer five times the range, and it takes just minutes to fill a hydrogen tank – compared with hours to recharge a battery.
However, the big downside has always been that mainstream adoption of fuel cell cars requires a complete overhaul of refueling infrastructure – rivaling that of gasoline – while electric cars only need to be plugged into an outlet.
Fuel cell cars would have to be "filled up" at "hydrogen" stations – there are only 10 publicly available in the US right now.
A critical part of GM and Honda's collaboration will be to work with local governments and other stakeholders to expand the network of hydrogen stations, which cost about $1 million each to build.
GM and Honda rank first and second, respectively, on the Clean Energy Patent Growth Index in terms of fuel cell patents filed between 2002-2012, with more than 1,200 between them.
In January, Daimler, Ford and Nissan announced a separate collaboration to build fuel-cell vehicles within five years.
(Visited 4,661 times, 7 visits today)