Cost and performance considerations have long held back the market for Building Integrated Photovoltaics (BIPV), but the steep drop in solar prices and the emergence of high-profile projects and EU policies are injecting new enthusiasm for incorporating it into building designs.
"We're approaching a tipping point and at some point in the future building integrated solar would be a must-have in the design of any new and significant building," Mike Russell, managing director at Accenture told Bloomberg.
Solar manufacturers, stung by diving prices, see BIPV as a way to offer a premium product that can provide strong margins. Architects see it as a way to incorporate distributed energy as part of the design process, rather than tacking on solar energy as an afterthought.
Heightened interest in energy efficiency, the rise of net-zero energy buildings and breakthroughs in component design are all helping drive growth.
In Europe, architecture firm Norman Foster and clients see it as a way to "produce eye-catching buildings" that meet new regulations, reports Bloomberg. Western Europe is expected to start as the biggest BIPV market because of its policy requiring all new buildings to be net-zero energy starting in 2021.
"Building integrated solar in office buildings and factories which generate energy consistently during daylight hours, whilst not requiring additional expensive land space or unsightly installations, is seen as the most obvious energy solution," Gavin Rezos, principal of Viaticus Capital Ltd., told Bloomberg. The corporate advisory company has invested private equity in BIPV technology.
Two examples of new buildings sporting BIPV features are the new football stadium being built for the San Francisco 49ers in Santa Clara, Calif., which has technology developed by BASF SE; and the new Bloomberg LP headquarters in London being designed by Foster + Partners, which includes solar that's incorporated into the roof instead of just laying on top of it.
The 55,000-seat Kaohsiung World Stadium in Taiwan is also a great demonstration of this: close to 9,000 panels are integrated directly into the building's skin.
And one of the most mature and largest examples of BIPV design is the vertical solar façade on the CIS Tower in Manchester, England, (pictured below) which uses technology from Solar Century Holdings Ltd.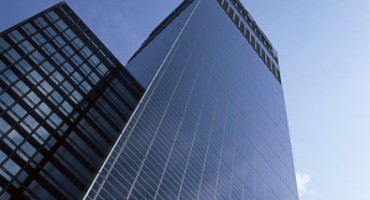 There's a bright future for BIPV. While it generated just $606 million in revenue in 2012, more than 4.6 gigawatts (GW) of BIPV will come online by 2017, driving $2.4 billion in revenue that year, says Pike Research.
BIPV costs 10% more than traditional rooftop solar, Alan South, chief innovation officer at Solar Century, told Bloomberg.
"At the moment, it's much cheaper to install a conventional module unless your roof is an unusual shape – and expensive solar installed on unsuitable roofs is a decorative design feature, not an energy solution," adds Jenny Chase, solar analyst at Bloomberg New Energy Finance.
One reason is all the extra components needed to support BIPV within the structural design. "While the individual cells are discreet and easy to integrate, they require cabling and additional elements that need to be carefully incorporated," David Nelson, head of design at Foster + Partners, told Bloomberg.
His firm is no stranger to green building innovation – it designed and constructed New York's Hearst Tower, the first LEED Gold office building in the city.
As the BIPV market matures, Solar Century is developing technology that can be blended into roof tiles and slates. In the United States, Dow Chemical is already selling solar roofing shingles in more than a dozen states.
(Visited 4,125 times, 27 visits today)