The BMW Group has debuted its first electric car and the first to be mass-produced made from ultra-light carbon fiber.
The BMW i3 hatchback goes on sale in the US in spring 2014, with a sticker price close to $43,000.
That's almost $28,000 less than Tesla's base model and about $14,000 more than the Nissan Leaf.
It can go 80-100 miles per charge and has a gasoline-powered range extender.
A 34-horsepower, 650cc engine kicks in when the battery depletes to a certain level – it maintains the charge and roughly doubles the range if necessary. Technically, though, it never directly drives the car's wheels, which distinguishes it from hybrids.
If owners need to take a really long trip, owners can get a conventional vehicle through BMW's special loaner program.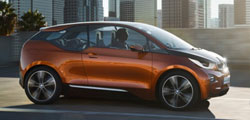 The car is designed to go from zero to 60 miles per hour (mph) in 7 seconds, up to top speeds of 93 mph. The battery can be charged in about three hours using a 220-volt charger.
The BMW i3 is full of technologies and design features that aren't found in the carmaker's gas-powered luxury vehicles.
One big breakthrough centers on the passenger cabin, the so-called Life Module. The carbon fiber material used to construct it is as strong as steel, but is 50% lighter; it is also 30% lighter than aluminum – it shaves 700 pounds off the weight of the car.
About 25% of the plastics in the interior and 25% of the thermoplastics parts on the exterior are sourced from recycled materials or renewable sources, says BMW.
"Quite often in a post-apocalyptic world all the vehicles end up looking like military vehicles, and that's not the kind of science fiction that I wanted our designers to design," BMWi design head Adrian Van Hooydonk told Forbes. "I wanted something that offered a positive view of the future, a future that works very well. That's the briefing I gave them."
Last year, plug-in and electric cars were the fastest growing segment of the US automotive industry.
(Visited 5,047 times, 1 visits today)