The last decade has been the warmest since record-keeping began in the 1850s, with "unprecedented high impact climate extremes" around the world, says the World Meteorological Organization (WMO).
They catalog the raft of extreme climate events in The Global Climate 2001-2010, A Decade of Climate Extremes, such as the heat waves in Europe and Russia, catastrophic floods in Pakistan, droughts in the Amazon, Australia and Africa, cyclones in the Philippines, and Hurricane Katrina in the US.
The past decade has been the warmest for both land and sea temperatures, in both hemispheres.
Decadal global combined surface-air temperature over land and sea-surface (centigrade)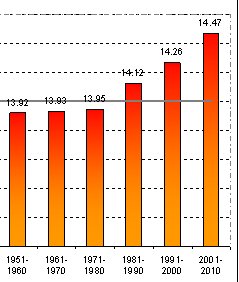 "A decade is the minimum possible timeframe for meaningful assessments of climate change," says WMO Secretary-General Michel Jarraud. "WMO's report shows that global warming was significant from 1971-2010 and that the decadal rate of increase between 1991-2000 and 2001-2010 was unprecedented."
Rapid melting of the polar ice caps and the resulting thermal expansion of sea-water has led to global average sea level rise of about 3 millimeters (mm) a year – about double that during the 20th century (1.6 mm per year).
Deaths from heat-waves soared 2000% – from less than 6,000 in 1991-2000 to 136,000 this past decade, largely due to heat-waves in western Europe in 2003, and Russia in 2010.
170,000 people died during the 511 tropical cyclones and a mind-numbing 250 million people were affected, adding up to $380 billion in economic damages. It was the most active decade for cyclones since 1855 in the North Atlantic.
The WMO report documents the rise of atmospheric concentrations of greenhouse gases, such as carbon dioxide, up 39% since the start of the industrial era in 1750. That was in 2010, when carbon levels reached 389 parts per million (ppm) – this year they crossed the 400 ppm threshold.
During the decade, methane concentrations rose 158% and nitrous oxide, 20%.
Except for 2008, every year of the decade ranked among the 10 warmest years on record, and 2010 was the warmest year ever recorded.

It was also the second wettest decade since 1901, and 2010 was the wettest year since the start of instrumental records.
Separately, the US National Oceanic And Atmospheric Administration (NOAA) came to the exact same conclusions.
The 100-page report provides plenty of detail to help in debates with climate skeptics:
Website:
[sorry this link is no longer available]
(Visited 8,217 times, 53 visits today)