Corning Inc. rarely invests in young companies but it made an exception in the case of View, leading a $60 million Series E round.
View, previously called Soladigm, makes dynamic glass. The glass automatically changes from clear to tinted based on environmental conditions and user preferences. It controls heat and glare in buildings while providing greater comfort, uninterrupted views, and natural daylight. Dynamic Glass can significantly reduce heating, ventilation and air conditioning use, especially during times of peak load.
In a typical commercial installation, the glass cuts annual energy consumption from peak HVAC loads by 25% and lighting by 20%.
It also gives architects more freedom over design, since it eliminates blinds and shading structures and enables building designs with more glass.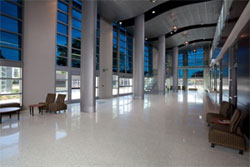 Dynamic smart windows are one of the high growth segments of the green building industry, expected to reach a $418 million market by 2020.
Other investors in the round include existing investors Khosla Ventures, General Electric (GE), Sigma Partners, DBL Investors and NanoDimension. View has now raised a total of about $180 million. Westly Group, which recently raised $160 million for cleantech venture capital also has a stake.
GE originally chose View as part of its $200 million ecomagination Challenge and has since participated in other investment rounds.
Corning will also work with the company in a joint venture, incorporating its ultra smooth glass into View's final product. View applies a micrometer-thin layer of electrochromic material onto glass.
So far the biggest obstacle for more widespread use of the glass is not surprisingly, cost. It costs about 50% more per square foot than standard architectural glass. But for new construction it makes sense because it's balanced by the need for a smaller HVAC system.
With this new infusion, View will ramp up its Mississippi manufacturing plant, where it employs 160 people.
"While dynamic glass has been in development for decades, we believe View's unique approach will finally bring this technology into the mainstream," says Martin Curran, executive vice president and innovation officer for Corning.
Website:
[sorry this link is no longer available]
(Visited 4,650 times, 1 visits today)