In a historic milestone for aviation, United Airlines signed a purchase agreement to buy 15 million gallons of biofuel for its flights out of its Los Angeles hub (LAX).
Most importantly, the price for the biofuel is competitive with traditional jet fuels.
Fuel is the biggest cost for airlines, consuming about a third of total expenses. Since they burn thousands of gallons on just one trip, they are extremely sensitive to even the smallest price difference.
With the order, Seattle-based AltAir Fuels will be able to retrofit an existing petroleum refinery near Los Angeles to a 30 million gallon capacity advanced biofuel refinery that makes jet fuels. It will re-tool idle equipment using Honeywell's Green Jet process to make biofuels.
The feedstock for the biofuels will be non-edible oils like camelina and agricultural wastes.
Camelina doesn't compete with food crops, but a GMO version is under development to capture more carbon and for higher yields: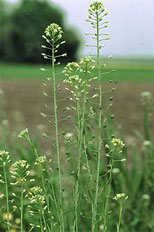 United Airlines, which has been a strategic partner for Altair since 2009, will buy the fuel over three years.
"We cannot overestimate how important this milestone is for the
commercialization of sustainable aviation biofuels, says Tom
Todaro, CEO of AltAir.
The beauty of biofuel-based jet fuel is that it is "drop-in" fuel, which means no modifications are needed in airline engines to accommodate the fuel. It provides the same performance as
conventional, petroleum-based fuel, yet it cuts greenhouse gas emissions by at least half over its lifecycle.
"This refinery is important for two timely and significant reasons. First, the industry is delivering
on the promise of commercial production of advanced biofuels that move beyond
additives, like ethanol and biodiesel, to drop-in, replacement low-carbon fuels.
Second, this project demonstrates the practical efficiencies these fuels allow
by fully integrating into an operating petroleum refinery,"
notes Bryan Sherbacow, AltAir's President.
United Airlines has also tested biofuels made from algae, jatropha and synthetic fuel made from natural gas.
In November 2011, United operated the first US commercial flight powered by
advanced biofuels from Houston to Chicago. Wouldn't you love to have been one of those passengers?
United Airlines is a signatory to the Sustainable Aviation Fuel Users Group, whose members consume about a third of commercial aviation fuel. Members have signed pledges to pursue the advancement of drop-in biofuels
that achieve sustainability criteria, work with leading organizations
to achieve biofuel certification standards and take actions to enable commercial
use of aviation biofuels.
"The potential for biofuel to contribute to our climate change strategy could be quite significant once issues of supply and cost are addressed," says Ed Bastian, President of Delta Air Lines.
Still, some of United's most frequent flyers are calling out the company for holding back regulations that would address the industry's emissions. More than 500 Premier status flyers signed a letter to United's CEO.
In March, KLM Dutch Airlines began weekly transatlantic flights on a combination of used cooking oil and conventional jet fuel, as part of an industry-wide pilot program.
The first commercial flights ran partially on biofuels in November 2011. And in October, 2012, the first civilian jet flew for an hour powered by 100% renewable biofuel. A demonstration project is taking that a step closer to commercialization of 100% drop-in renewable replacement for jet, diesel, and gasoline fuels.
Competitors Airbus, Boeing and Brazil's Embraer are working together to develop affordable biofuels for the airplane industry.
The US Department of Agriculture (USDA) set aside 80,000 acres in six different states for the production of non-food crops that can be converted into biofuels.
(Visited 11,007 times, 10 visits today)