In what seems to be becoming a trend, two more companies are going public this summer that buy and own renewable energy plants.
That brings the total to five IPOs this year – two in the US and three in Britain – for companies with this business model. The idea is to attract institutional and retail investors to own shares in solar and wind plants that have long-term, reliable revenue streams, sharing the profits with investors via dividends.
"The IPO market appears to be heating up for renewables," Ben Warren of Ernst & Young told Bloomberg. "As the conventional exit routes of utility purchasers remain stifled by constrained balance sheets, developers and infrastructure funds are looking to the deeper pools of capital in the public markets."
"We expect both institutional investors and both the debt and equity capital markets to become a much more common feature of the renewables landscape," he says.
This is quite a switch from the mid-2000s, when solar and wind manufacturers were all the rage on the world's public markets. Those stocks plunged in the past few years and now the markets are supporting the build-out of large projects and installers like SolarCity and SunPower instead. Since its IPO in December 2012, SolarCity's stock has quadrupled in price.
Renewables Infrastructure Group Ltd. is planning the biggest IPO yet with its raise of $460 million on the London exchange, set for late July.
Those funds will buy 14 onshore wind farms and four solar parks mostly in Britain, but also in France and Ireland, for a total 276 megawatts (MW). Going forward, they plan to invest about half the fund in UK projects, but will also look at northern Europe, including Germany and Scandinavia.
The company has rights to buy projects built by Renewable Energy Systems Ltd., which has a portfolio of 120 wind projects generating over 7500 MW.
Also in London, Bluefield Partners LLP plans to raise $244 million for Bluefield Solar Income Fund Limited to buy or finance large-scale solar plants in the UK. Projects will be sited on agricultural and industrial land.
They expect to more than double that amount in investments over the next few years as large-scale solar become a major investment theme in the UK and a significant source of energy.
UK's solar market is in its infancy compared to Germany and Italy, with the potential to post huge growth through 2020. Although the market more than doubled last year, there's still only 1.83 gigawatts (GW) of total capacity.
Compare that to Germany, with its 32.4 GW and Italy at 16.4 GW, where subsidies are now declining. Bluefield believes UK's favorable incentives will lead to 20 GW by 2020.
Established in 2009, Bluefield founders are former partners of Foresight Group, a large renewable technology investor. Jon Moulton, a private equity tycoon and chair of investment firm Better Capital (LON:BCAP), sits on its investment committee.
Bluefield has exclusive access to solar projects with British Gas Solar for the next year, such as this project purchased last year at Staples' UK Logistics Center.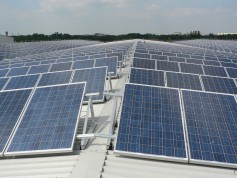 Other similar companies that went public this year are Greencoat UK Wind (LON:UKW), whose oversubscribed IPO raised $395 million, surpassing its goal for $321 million. The company buys wind projects in the UK.
The proceeds are paying for 126.5 MW of operating wind plants previously owned by utilities. Shareholders get a 6% dividend on the initial share price, triple that of bonds.
The UK's target is to source 30% of electricity from renewables by 2020 (up from 12% now), but the government is struggling to finance them.
In the US, the first renewable energy REIT went public on the NY Stock Exchange, Hannon Armstrong Sustainable Infrastructure Capital (HASI). That fund finances energy efficiency upgrades in buildings and renewable energy projects of various kinds.
(Visited 6,880 times, 19 visits today)