Three major renewable energy projects have been approved by the Department of Interior to be built on public land – two solar and one geothermal.
They add up to 520 megawatts (MW) of energy, enough to power about 200,000 homes and support more than 900 jobs through construction and operations.
The projects are: 350 MW Midland Solar Energy Project; 70 MW New York Canyon Geothermal Project, both in Nevada; and the 100 MW Quartzsite Solar Energy Project in Arizona.
The majority of Obama's We Can't Wait initiative, which fast-tracked seven major projects, have now been approved. Quartzsite is one of those projects.

Quartzsite Solar Project (100 MW – Arizona)
Located on 1,600 acres in La Paz County, it is being built by SolarReserve, using its concentrating solar technology that has integrated thermal energy storage.
SolarReserve's flagship 110 MW Crescent Dunes Solar Project in Nevada comes online late this year – the first commercial scale molten salt tower in the world.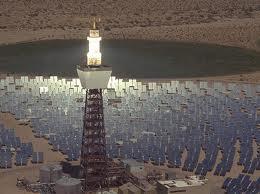 It is also building two 150 MW plants, one in California and the other in Arizona using the same technology. More than 20 hours of energy storage is possible, making it equivalent to coal, natural gas and nuclear plants.
Heliostats focus the sun's energy onto a central tower, where liquid molten salt captures and stores the sun's thermal energy, which can be used as needed to drive steam turbines to generate electricity. Its dry-cooling technology requires hardly any water.

Midland Solar Project (350 MW – Nevada)
Boulder Solar Power is building the project on private land near Boulder City, but it crosses 76 acres of a federal transmission corridor. It will get water directly from public sources so that surface waters don't have to be diverted or impact habitats.
New York Canyon Geothermal Project (70 MW – Nevada)
The project and a 230-kilovolt electrical line will be built on 15,135 acres of land in Pershing County by TerraGen Power.

All three projects underwent extensive environmental review and public comment. The companies agreed to undertake significant mitigation efforts to minimize impacts to wildlife, water, historical, cultural and other resources.
15 more utility-scale projects will be reviewed this year and next.
Since President Obama was first elected, the Department of Interior has approved 25 utility-scale solar plants, 9 wind farms and 11 geothermal plants, with associated transmission corridors and infrastructure to connect to power grids. In total, they will produce over 12.5 gigawatts of energy to supply 4.4 million homes, while supporting 17,000 construction and operations jobs (way more than the Keystone tar sands pipeline!).

(Visited 5,576 times, 17 visits today)