It is time for business to be a "force for good," says Sir Richard Branson in describing his new venture, The B Team.
His other recent ventures include RenewableJetFuels.org, which is spurring the aviation industry to invest in promising forms of biofuels, and Carbon War Room, which has been working to increase efficiency in the shipping industry and other ways to cut carbon emissions at the gigaton level.
The B Team is his new global non-profit that promises to champion "a new way of doing business that prioritises people and planet alongside profit – a "Plan B" for businesses the world over." "Plan A – where companies have been driven by the profit motive alone – is no longer acceptable."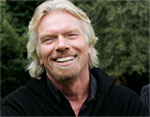 Co-founder Jochen Zeitz, former CEO of Puma, explains that while business is integral to society, it has "also created most of the negative environmental challenges of this century."
At Puma, he initiated environmental profit and loss accounting, where companies put a cost on their environment impacts and include that as part of their total accounting.
"The B Team will help to catalyse a shift away from the existing short-term, unsustainable mindset, towards the long-term interest of people, the planet and the wider economy."
Today they announced leaders that will join them in recruiting others and who will begin breaking down entrenched barreirs. They include Arianna Huffington, Chair of the Huffington Post, Paul Polman, CEO of Unilever and Ratan Tata, Chairman Emeritus of Tata Group.
In a live online broadcast to over 500 hundred gatherings in more than 115 cities around the world, The B Team Leaders issued a joint Declaration, which acknowledges key global problems of growing inequality, unemployment and unsustainable use of natural resources.
The Declarations starts by saying: "We, the undersigned, believe the world is at a critical crossroads. Global business leaders need to come together to advance the wellbeing of people and the planet. In fact, we think business has to think this way in order to thrive …
Business is now waking up to the reality that:
If we carry on using the natural resources of the world unsustainably, they'll quite simply run out.
With a burgeoning population, more people are still living in poverty than ever before and inequalities are increasing in many parts of the world.
Unemployment rates are at frightening levels.
Non-Profits alone cannot solve the tasks at hand, while many governments are unwilling or unable to act …
These are not the outcomes we envisioned as we grew our companies; this is not the dream that inspired us.
And the overwhelming conclusion we've reached is that businesses have been a major contributor to the problems, and we as business leaders have the responsibility of creating sustainable solutions."
"The Future of Leadership" Challenge will seek to accelerate a new kind of inclusive leadership underpinned by a moral compass of being fair, honest, positive and creative. Based on cooperation, it will be aimed at generating long-term value for society, the economy and the environment.
"The evolution of business leadership away from a focus on short-term profits is essential for the future generation of leaders," saus Arianna Huffington. "We need a "Plan B" for the way business is managed, starting with leadership more committed to well-being, wisdom and sustainable business success."
The "Future Bottom Line" Challenge seeks to accelerate a move away from single-minded financial "short-termism" towards a focus on the long term, and will aim to expand corporate accountability beyond financial gains to include negative and positive contributions to the economy, environment and society.
"The Future of Incentives" will help focus business away from short term gain and to balance the long term benefits for our people and our planet. B Team plans to work with partners to develop new corporate and employee incentive structures and to identify and map both positive and harmful subsidies.
"Positive market incentives operating in the public interest are too few and far between, and are also up against a seemingly never-ending expansion of perverse incentives and lobbying," says Mo Ibrahim, Founder of Celtel.
The B Team will be holding a series of community events over the coming months. They are encouraging the public to submit their views on a new charter for better business at their website:
Website:
[sorry this link is no longer available]
(Visited 19,986 times, 13 visits today)