In a case that shows how simple, common sense improvements can make a huge difference, bioswales in New York City will prevent more than 3 million gallons of stormwater from reaching waterways each year.
During superstorm Sandy, billions of gallons of polluted stormwater flooded the city's waterways.
Bioswales -also called rain gardens – are very basic projects that add beauty to neighborhoods while absorbing rain that would otherwise carry pollutants into waterways.
They simply turn part of a sidewalk from pure concrete into a areas with water-hungry plants, soil and mulch.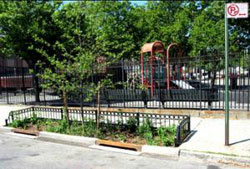 They are designed so that stormwater can enter and exit. To build them, they were excavated to a depth of five feet and backfilled with layers of broken stone and engineered soil. These layers contain void spaces which store stormwater and promote infiltration. The addition of hardy plants – the thicker the better – further encourages infiltration through their extensive roots.
Here's a bigger example of a bioswale: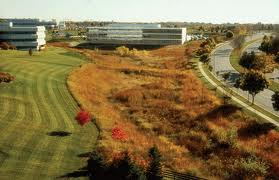 In NYC, 22 bioswales have been installed in the Bronx and 19 in Brooklyn. By reducing sewer overflows, they will protect the quality of water in nearby rivers and New York Harbor.
"In order to improve the health of local waterways we have to better manage the stormwater that falls on city streets, sidewalks, parking lots, and rooftops," says Bronx Commissioner Strickland. "This green infrastructure installation will collect and absorb stormwater, which will improve the cleanliness of the Hutchinson River, while also greening the neighborhood, providing shade in the summer months, and cleaning the air. The important data we collect will quantify the reduction in pollution and will support our water quality planning efforts."
NYC's PlaNYC includes $2.4 billion for green infrastructure stormwater management that captures rainwater before it can flood. The city requires climate risk assessments for new developments in vulnerable areas, and is restoring 127 acres of wetlands that serve as a natural storm barrier.
Chicago is also greening its infrastructure and Greenworks Philadelphia, its plan for being the "greenest city" in the US by 2015, includes a 719-page "Green City, Clean Waters" plan, considered a model for the country.
Learn how to create a bioswale:
Website:
[sorry this link is no longer available]
(Visited 6,271 times, 15 visits today)