First it was car-sharing services like ZipCar and now it's rides-on-demand that are attracting venture capital money.
Ever heard of Lyft? The San Francisco based company just raised $60 million in a Series C round led by Andreessen Horowitz. And it raised $15 million from Founders Fund, which brings its total to a pretty astounding $83 million!
Competitors include SideCar and Uber Technologies.
Founded in 2007, Lyft makes an "app" that lets people catch a ride from wherever they are, which is making taxi drivers pretty uncomfortable. But in areas where there are few taxis it certainly comes in handy, kind of like what we used to call "hitchhiking."
The "app" contacts people who want to give rides and in exchange they get a "donation," which so far has kept the company free of regulations that apply to taxis. California is considering how to regulate this new brand of service.
Lyft cars can be easily identified because they have a pink mustache on the hood.
They currently match 30,000 rides a week in San Francisco, Los Angeles, Seattle and Chicago.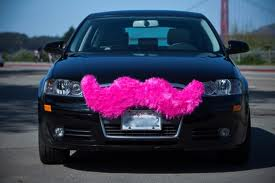 Scott Weiss of Andreessen Horowitz explains Lyft this way:
Lyft is all about taking cars off the road via ridesharing. This is NOT merely a cool new use of technology to efficiently onboard and route more cars, cabs, towncars and limos. Lyft wants to use technology to get everyone who currently owns a car to join a trusted information network to share rides.
– As such, the Lyft drivers are regular folks with underutilized cars. They are college students, engineers, entrepreneurs and retirees. As the founders like to say, a Lyft driver is "your friend with a car."
– As demonstrated by Airbnb, the person-to-person sharing economy is all about earning trust and establishing a good reputation. If I am going to rent my spare bedroom or get into the car with someone I don't know, I have to find a way break the trust barrier. Lyft requires all drivers and riders to connect through Facebook. They have intentionally limited the potential market to people who have established social network identities as a way to improve trust and safety. The drivers and passengers also rate each other after each ride to further build their reputations.
– Lyft screens their drivers with interviews and full background and DMV checks. They are looking for real people with great driving records and a knack for hospitality.
– You also get to ride up front in a Lyft. As the car pulls up with its unique pink mustache on the front (as John says, "it always brings a smile!"), you jump in the front seat and do a ceremonial fistbump with the driver. You are offered a phone charger and the chance to play DJ for the ride. Many of the drivers I've ridden with even offer something unique and fun like Capri Suns or snacks for the road.
Lyft is a real community – with both the drivers and riders being inherently social – making real friendships and saving money.
Not much to see on the website, but here it is:
Website:
[sorry this link is no longer available]
(Visited 5,794 times, 4 visits today)