Update July 18:
Unfortunately this wonderful story turns out to have been a mistake on the part of a First Solar technician.
First Solar tells RenewEconomy:
"First Solar's information that AVSR (Antelope Valley) was producing 1MW of power from the "super moon" earlier this week is actually incorrect. We take full responsibility for the misunderstanding; an O&M operator (new on the job) simply misread the nominal load measurement present when the system is off-line, and wrongly assumed it had registered power during the full moon event. We in no way intended to misrepresent the capabilities of First Solar's technology.
We want to set the record straight. This was an honest mistake, and again, we apologize for the error.
—-
This past weekend during summer solstice, when our moon is at its closest point to Earth, is the annual Super Moon – when it appears as the biggest, brightest full moon of the year.
And in California's high desert, a solar plant produced electricity from moonlight.

It happened at First Solar's Antelope Valley Solar Ranch which at 136 megawatts (MW) is half finished and already sending electricity to the grid, reports RenewEconomy.
On Sunday night, the solar panels produced 1 MW of energy from the light of the moon, which this time of year appears 14% larger and 30% brighter than a typical full moon.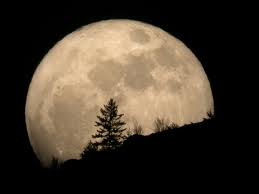 First Solar has always said its thin-film panels perform better in diffuse light conditions like dawn and dusk, and on cloudy days, and now it knows it can also do it using sunlight reflected off the moon – at least once a year!
In another instance, reports Renew Economy, First Solar's panels produced 200 kilowatts of energy as 3" of snow fell to the ground.
As for Antelope Valley, which has more than 350 sunny days a year, even on a very cloudy day, solar panels produce 60 MW of energy – almost half the rated capacity of the plant. As clouds dispersed, that quickly rose to 90 MW, they say.
Even those the Super Moon is much brighter than during the rest of the year, it may not appear that way to most people. Instead, what is most noticeable is that it's the lowest full moon of 2013.
"And since lower moons tend to be orange­, yellow or amber, shining as they do through more than twice as much reddening air and moisture, this lunar experience gives us a true 'honey moon' all night long. Moreover, lower moons look larger, thanks to the famous 'moon illusion.' This second moon­-enhancing effect will be more visually obvious than its actual size increase," says astronomer Bob Berman.
All not as large as the June 21 supermoon, there will be an imperceptibly smaller one on July 22.
(Visited 21,232 times, 3 visits today)