Independent utility NRG, which has become a major player in solar development, is spinning off that unit in an IPO on the NY Stock Exchange.
Just like big investors in solar and wind farms, every shareholder will be able to benefit from consistent dividends from the electricity generated from these plants.
NRG Yield, under the ticker NYLD, will acquire and operate a mix of solar, wind and also natural gas-fired generating assets. NRG plans to raise $400 million in the offering.
It will be "a premier company for investors seeking stable and
growing dividend income from a diversified portfolio of lower-risk high-quality
assets," NRG says in the filing.
NRG, based in Princeton, New Jersey, is the largest independent electric utility in the US. It plans to keep a majority interest in the unit.
NRG Yield will launch with 1324 megawatts (MW) of capacity from three natural gas
or dual-fired facilities, seven utility-scale solar plants, two portfolios of distributed solar systems and one wind farm. They all have long-term power purchase agreements.
Some of the funds raised through the IPO will finance construction of the 250 MW California
Valley Solar Ranch project that comes online late this year. NRG has a 49% stake in the project, which has a $1.2 billion loan
guarantee from the Department of Energy (DOE). Pacific Gas & Electric has signed a 25-year contract to purchase the
electricity. SunPower is building the project using its solar panels.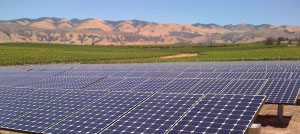 NRG Yield will have the "right of first
offer" to acquire the other projects in NRG's portfolio – four other solar farms, including the other 49% of California Valley Solar Ranch and a gas facility.
The other solar projects are 49.95% of BrightSource
Energy's 377 MW Ivanpah plant (where Google has an interest) and 51% of NRG's
Agua Caliente project (Warren
Buffett's MidAmerican Energy holds the rest). Both projects have loan guarantees from DOE.
NRG Bluewater Wind is one of two companies approved for an offshore wind lease, but NRG is looking to sell or find investors for Bluewater. NRG is also very active in vehicle-to-grid technology and electric vehicle charging, with its own network, and recently invested in energy storage company, Eos Energy.
Hannon Armstrong Sustainable Infrastructure Capital Inc. (HASI) went public recently, which gives investors the opportunity to participate in the first REIT for building efficiency and renewable energy projects.
(Visited 5,714 times, 9 visits today)