If you're looking for a hotel or B&B to stay in, you might want to check out TripAdvisor's Green Leaders website, where hotels across the US are ranked on sustainable practices.
You can find out if they have solar, electric car charging, a green roof and composting among many other features.
Developed in partnership with the EPA's Energy Star, the U.S. Green Building Council, and the United Nations Environment Program, hotels apply to be accepted into the program. Once evaluated, they are given LEED-like ratings – Bronze, Silver, Gold, and Platinum.
You can even tailor your search to find hotels based on their rating.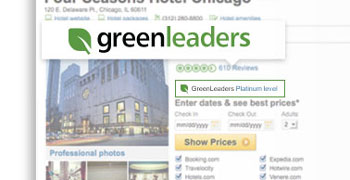 To be accepted, hotels have to meet minimum requirements including the usual linens re-use, using energy-efficient light bulbs, tracking energy usage, recycling, and educating staff and guests on green practices.
Hotels report on their sustainability initiatives but they are audited by a third-party.
The program is just ramping up and so far lists 1000 ranked hotels.
Not surprisingly, San Francisco leads as the city with the most green hotels, followed by New York, Seattle and Austin.
To find a green hotel, look for the GreenLeaders badge on a listing and then click on the badge to learn the details of what they're doing.
Travelocity also has what they call the largest Green Hotel Directory. They don't accept self-reports, but instead "work with rigorous second- and third-party certification programs to certify our Green Hotels." When you search their site, look for the green leaf tag.
Florida's Green Lodging Program recognizes facilities that conserve and protect Florida's natural resources.
And by the way, Alaska Airlines is the most fuel-efficient, having cut carbon emissions 30% since 2004 by doing things like mapping the shortest flight path.
Here's TripAdvisor's website:

Website:
[sorry this link is no longer available]
(Visited 7,446 times, 4 visits today)