It's not surprising that the US leads the world on the number of LEED-certified buildings, since it was the US Green Building Council that developed the rating system.
Although certification of buildings is spreading across the world, the US still has by far the greatest number – about 44,000.
What is surprising is that Germany is the only European country on the top 10 list, but that could be because they use different rating systems, such as BREEAM in the UK.
The countries with the fewest certified buildings are in Latin America and the Caribbean.
United States (44,270 certified or registered projects)
China (1,156)
United Arab Emirates (808)
Brazil (638)
India (405)
Canada (383)
Mexico (322)
Germany (299)
Turkey (194)
Republic of Korea (188)
Green building markets are accelerating around the world and are increasingly viewed as standard, best practice, according to recent surveys. In the US, 48% of new construction is now green, expected to rise to 58% by 2015.
Check out US Green Building Council's infographic: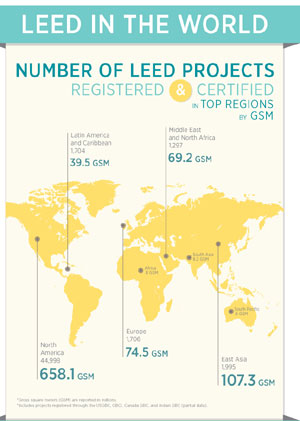 (Visited 10,436 times, 460 visits today)