Shares of Tesla Motors (TSLA) surged after reporting its first-ever quarterly profit this week, taking its market valuation higher than Fiat's!
Although the surge could be ephemeral, its shares currently sell for $72 (up 26%), after tripling analyst expectations of 4 cents per share and exceeding revenue forecasts. Its market cap is $7.9 billion.
Net income was $11.2 million – not bad for a company that showed a loss almost $90 million in the previous quarter.
The company sold 4900 cars in the first quarter, beating the 4500 it expected to sell and reaching $562 million in revenue.
Tesla raised guidance for 2013 by 5%, saying it expects to sell 21,000 Model S sedans this year.
"There's potential for next year a fairly significant increase in volume as we really test the depth of the demand that's out there," CEO Elon Musk told Reuters. "It's probably quite a bit higher than we had originally thought."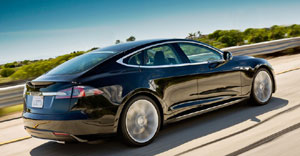 Consumer Reports gave the Model S their highest rating for a luxury sedan, 99 out of 100 points, and it won the coveted "Car of the Year" award from Motor Trend magazine.
Based on the electricity used for charging, Consumer Reports estimates it costs the equivalent of $1.20 per gallon to keep the car "full."
Apparently, Tesla's sales model of showcasing cars in shopping malls is working – over a million people visit those stores every quarter, says the company.
Still, Tesla's stock is heavily "shorted," because many see it as a bubble that doesn't reflect the electric car market.
Increased production has help Tesla become more efficient. It's cut the time it takes to make a car by 40% in the past few months and along with better inventory management added over $30 million to cash flow.
"Increasing production by over 3000% from Roadster to Model S was extremely difficult and many mistakes were made, but now we are starting to get the hang of things," says the company.
Analysts expect Tesla to break even in the second quarter because of higher R&D expenses, and turn a profit in the third and fourth quarters, says Reuters.
"I'd be lying if I said it wasn't somewhat surprising to see they've been able to turn a profit so quickly on the Model S. It has the right stuff to be a strong player in the industry," Alec Gutierrez, an industry analyst with Kelley Blue Book, told Bloomberg.
"My hat's off to them. It's really hard to start up a
company, particularly in the auto business, and be successful. We've seen many who have not, and so the fact that they are off to a really good start and doing well, I think, is a real tribute to them," Bill Ford, executive chairman of Ford Motor, told Bloomberg.
While Tesla sold 4900 cars, the GM sold 4421 Chevy Volts and Nissan sold 3965 Leafs.
Tesla was one of the companies that received a loan from the Department of Energy – $465 million in 2009 – and it made a $13 million payment on that this past quarter. Elon Musk says they are committed to paying it back in full within five years.
The company is no longer producing its first car, the Roadster, which sold for over $100,000. The Model S sells for about $59,000 before a federal rebate of $7500 for electric cars and various state rebates.
Its next car, the Model X crossover SUV, is due out next year.
Tesla is also proceeding with a plan to build a nationwide solar-powered charging network, free to its car-owners.
(Visited 5,842 times, 15 visits today)