Ted Turner, founder of CNN and long-time environmentalist, is partnering with the utility Southern Company to build and buy big solar plants in the western US.
Southern Co. is the second largest US utility (by market cap) and best known for its dirty, outdated coal plants.
So far they have jointly purchased five projects, catapulting Southern to one of the largest utility owners
of solar energy in the US.
They own the 2.5 MW Granville Solar Facility in North Carolina; the 20 MW Apex Solar Facility and 30 MW Spectrum Solar Facility, both in Clark County, Nevada; the 30 MW Cimarron Solar Plant in New Mexico and their most recent, biggest buy, the 139 MW Campo Verde Solar Project in California.
They bought Cimarron and Campo Verde from First Solar which is in charge of construction and maintenance. Campo Verde is under construction and comes online this year on 1,443 acres.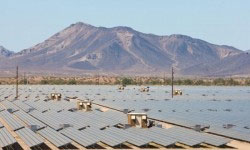 Why are they working together?
Turner Renewable Energy already has an installation business and wants to get involved in utility-scale solar farms, but getting financing from banks is still difficult. Southern brings financing and a combination of knowledge of the utility industry and technical expertise in operating large-scale power plants.
For its part, Southern gets an important hedge against clean energy chipping away at its fossil fuel business.
Utilities are increasingly concerned about how the rapid growth of distributed energy is a threat to their business model. Yesterday, we wrote about how utilities are trying to eliminate net-metering in states across the country because homeowners and businesses can sell excess solar electricity to utilities (under the law) instead of buying it from them.
Southern is playing it from both angles. They are pushing to eliminate net metering laws and Renewable Portfolio Standards which force utilities to buy renewable energy AND it is investing in it.

Numerous utilities are deciding whether to offer services such as energy retrofits, solar installation and financing to protect their businesses from losses from electricity sales as solar expands.
NRG is making major commitments in developing a renewable energy business, for example, and Duke Energy, Edison International and Exelon are all considering how far they should go.
So far, the exodus from the grid is small, with about 310,000 customers producing their own energy from solar, but the number is growing around 60% a year, Mike
Taylor of the Solar Electric Power Association told Bloomberg.
Installed solar capacity in the US is expected to more than
triple from 4.9 gigawatts (GW) in 2012 to about 18 GW, according to Bloomberg New Energy Finance.
Recently, Southern has made other moves into renewables, at least partially because of Turner's influence. Its Georgia Power division will import 654 MW of wind from Oklahoma next year and buy 210 MW of solar from various solar plants, the first significant renewable energy buy in the state.
Last year, Southern Co. named the "most irresponsible utility in the US" for its reliance on coal and nuclear power. Its new nuclear plant in the state has already racked up more than $400 million in cost overruns and deplays. The company is also among the petitioners that keep taking the EPA back to court to nullify its power to regulate carbon emissions.
(Visited 6,062 times, 8 visits today)