One industry that's been making great strides on sustainability in recent years is the sports industry.
We've been treated to an increasing number of stadiums that are net-zero energy, producing more energy from solar and wind than the stadium needs.
Here's the incredible Kaohsiung World Stadium in Taiwan, which opened in 2009. The largest stadium in the country with 55,000 seats, it is shaped like a dragon covered entirely by solar panels.
Almost 9000 solar PV panels are integrated into the building's skin (BIPV). They generate 75% of the stadium's electricity when games are on, and sells it to the grid during down times. The system produces 1.14 gigawatt hours of electricity a year.
Yes, the blue is all solar panels: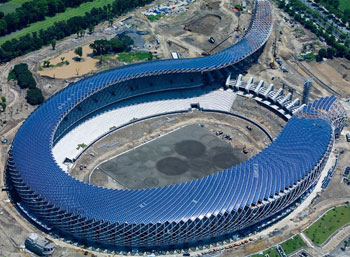 Designers kept the sides and roof open based on the direction of the wind during summers to take advantage of natural cooling. By creating a tunnel, air passes through to keep fans cool.
Rainwater collected on the roof is used to irrigate the public park that surrounds the stadium.
(Visited 6,917 times, 129 visits today)