Kroger supermarkets has come up with a solution that will put a dent in the food waste generated by the supermarket chain – it will be turning it into biogas energy that powers a distribution center.
Kroger is the biggest supermarket chain in the US with 2400 supermarkets in 31 states.
Any food that can't be sold or donated will help power its 650,000 square foot Ralphs/Food 4 Less distribution center in Compton, California.
An anaerobic digester will process over 55,000 tons of food waste a year, about 150 tons a day, providing 20% of the facility's energy. And it will use 150 zero emission fuel cell fork lifts to do the job.
Pretty amazing how much food waste is generated by supermarkets, isn't it?
If you've been reading our articles on the growing use of biodigesters, you know that besides producing energy they also generate organic fertilizer as a byproduct.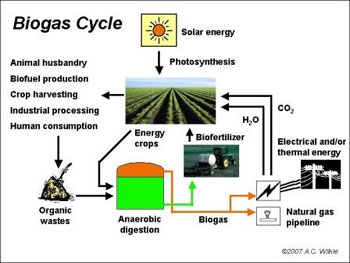 Importantly, the system will also reduce truck trips by more than 500,000 miles each year. Rather than making special trips to haul food waste to landfills or waste-to-energy plants, the bio-digester will be on-site. The same trucks that deliver food to supermarkets from the distribution center will make their return trip with food waste from supermarkets.
The Compton distribution center serves 359 supermarkets in Southern California.
Kroger's biogas system is designed and operated by Boston-based FEED Resource Recovery, Inc., which has developed a closed loop, zero waste solution for the food industry.
Kroger says its investment in the biogas digester will be paid back within five years, an 18.5% return on investment. It's considering adding biogas to other distribution sites.
Forbes recognized Kroger as the most generous company in America for its food contributions – 125 million meals a year through more than 80 Feeding America food bank partners.
The top award for energy efficiency went to Kroger last year from the Alliance to Save Energy.
In another recent announcement, Kroger is adding electric vehicle charging stations at 300 supermarkets and is joining other corporate leaders in committing to buy only sustainably source palm oil and seafood.
(Visited 9,204 times, 47 visits today)