Eos Energy Storage, which is commercializing grid-scale energy storage systems, has raised $15 million in a Series B financing round.
Independent power generator NRG is one of 21 investors.
This month, Eos announced that NYC utility Con Edison will do a pilot on Eos's Aurora zinc-air batteries, in anticipation of their roll-out to utilities next year.
The goal for Eos is to develop batteries that are cheaper for utilities than using natural gas for peak energy.
Aurora is the first long-life rechargeable zinc-air battery. Its low cost comes from using common, inexpensive and safe materials: zinc, which is plentiful and cheap, and which can be locally sourced in the US. It also uses Air, which is currently available free of charge. And it has the same electrolyte that's used in toothpaste.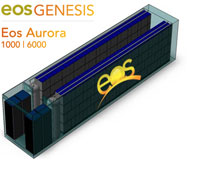 The battery is based on single-use zinc-air batteries which are in wide use in applications such as hearing aids.
Energy storage is a key piece of the puzzle for making the grid more efficient. When this problem is solved, there will be little need to have fossil fuels on hand for backup during peak use periods (often, older, dirtier plants).
Utilities will be able to operate more efficiently and customers will
benefit from being able to time-shift peak energy demand. And it will make the grid more resilient.
That means existing assets will be more profitable for utilities,
since they won't have to spend as much building out new
infrastructure, and it will increase adoption and profitability of renewable energy for them.
Eos claims the batteries can operate for 30 years at $1,000 per
kilowatt or $160 per kilowatt hour. It has 75% round trip efficiency. The containerized battery can be scaled for use in a small building to utility-size applications.
The company is already raising a Series C round to ramp manufacturing capacity for a 1 megawatt (6 megawatt hour) grid-scale battery.
Energy storage is one of the big areas for venture capital firms right now, along with smart grid and other efficiency technologies.
California has been showing preference for solar plants that have energy storage and Japan is installing the world's largest battery bank to stabilize the flow of solar energy – it will be able to store 60 megawatt hours of energy.
Last year, the Department of Energy formed an Energy Storage Hub to develop breakthrough technologies for transportation and the electric grid.
By 2030, renewable energy can reliably supply all the electricity the US needs (at competitive prices) if there is energy storage.
And last week, STORAGE was re-introduced in the Senate, the Storage Technology for Renewable and Green
Energy Act of 2013. S
"Building out more energy storage will increase the amount of renewable power on the grid, reduce our country's need for new power plants and make the U.S. energy system more reliable. "These systems don't make energy – they make energy better. With all of the attention given to new sources of power, it's only appropriate that energy storage gets its time in the sun," says Ron Wyden ( D-OR), who is sponsoring the bill along with Jeff Merkley (D-OR), Susan Collins (R-ME) and Angus King (I-ME).
If the bill passes, homeowners, small and large businesses and utilities would all get tax credits for installing energy storage system. Having battery back-up would have been very helpful during Hurricane Sandy, for example.
(Visited 5,161 times, 11 visits today)