The 3rd annual Architecture at Zero competition is on, giving designers an opportunity to compete on net-zero energy buildings.
To generate innovative ideas for net-zero building designs, this year's competition ask participants to design a mixed-rate housing complex that includes market rate and affordable housing, in the Tenderloin neighborhood of San Francisco.
Each entrant or team will produce a design for about 150 apartments, up to 14 stories high, with a grocery store on the ground floor.
Net-zero buildings are easiest to achieve for smaller buildings and those with less energy-intense uses. That's why this year's challenge focuses on a more complex situation. Finding solutions for specific site challenges will help broaden thinking about the technical and aesthetic possibilities of net-zero projects.
A new 13-story commercial building in San Diego is the biggest net-zero structure in the US; another important project is the Exploratorium science museum in San Francisco.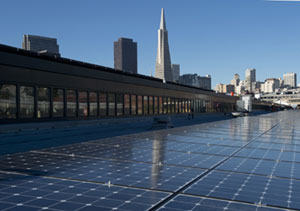 Besides professional designers, academics, researchers and students can participate. International experts will judge the entries and award $25,000 in total prizes in November.
The competition is sponsored by the San Francisco chapter of the American Institute of Architects, Pacific Gas and Electric and Tenderloin Neighborhood Development Corporation.
It supports California Public Utilities Commission's plan for all new residential construction in the state to be net-zero by 2020 and commercial construction by 2030.

Competition entries will be juried by international experts: Bob Berkebile of BNIM Architects; Ed Mazria, Founder of Architecture 2030; Cathleen McGuigan, Editor-in-Chief of Architectural Record; and Paul Torcellini from the National Renewable Energy Lab's Commercial Buildings Group.
The deadline for entries is Oct. 1.
Here's the website:
Website:
[sorry this link is no longer available]
(Visited 3,357 times, 5 visits today)