It's a good week for solar.
While we keep hearing that Renewable Portfolio Standards are under attack in the states, Minnesota strengthened their law. It currently requires utilities to get 25% of electricity from renewables by 2025. A new law creates a solar carve-out, directing the state's four investor-owned utilities to source 1.5% of that from solar by 2020 and 10% by 2030.
The law incentivizes utilities to support small solar by requiring that at least 10% of the 450 megawatts needed to fulfill the RPS come from systems under 20 kilowatts. They also have to spend $5 million a year for the next five years to fund incentives for retail solar installations.
Importantly, the bill transitions the state from a rebate-based system to a production-based system. Rather than using rebates to make solar installation cheaper, people will be paid for the amount of energy their systems produce, along the lines of a feed-in tariff. There are also incentives for buying "Made in Minnesota" solar systems. And there's also a provision for community solar which would be managed by the utility.
Minnesota is spending $1 billion to upgrade its transmission system this year as part of a $2.2 billion overhaul, which will enable a lot of wind power to connect to the grid.
Minnesota Clean Energy and Jobs campaign is behind the legislation and says they will now work to raise the RPS to 40% by 2030.
Colorado also enhanced its RPS last month.
In Indianapolis, the international airport announced it will install a second 10-megawatt solar system.

In Los Angeles, newly elected mayor Eric Garcetti says he will expand the city's solar feed-in law, Clean LA. He wants the program to achieve 1.2 gigawatts of solar including 600 megawatts on public buildings.
"If they can do 1,200 megawatts in Ontario, Canada, we can do it here in L.A. This will create thousands of jobs and help reach my goal of making the LA Department of Water & Power (LADWP) coal and nuclear free," says Garcetti.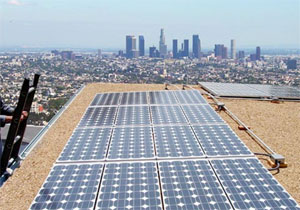 That's after LADWP finalized 150 megawatts (MW) for the program, the largest of any US city. They also paved the way for a 200 MW utility-scale solar project in the Mojave Desert.
There will be a set price for the first 100 MW of local rooftop solar and the other 50 MW will be competitively priced through an RFP that is "bundled" with a utility scale solar project.
They believe this approach can trigger solar development faster and keep prices as low as possible.
Garcetti, who drives an electric car, will also further support that industry.
(Visited 3,510 times, 2 visits today)