Boston is the 8th city in the US that's passed a law requiring buildings to measure and report on their energy and water consumption, and greenhouse gas emissions.
Disclosing building performance is one of the emerging trends in green building.

The ordinance applies to large commercial buildings over 35,000 square feet and residential
buildings with 35 units or more. Owners must begin reporting annually in May, 2014 for the largest commercial buildings that are at least 50,000 square feet.
About 1600 buildings are covered by the law as part of Boston's Climate Action Plan.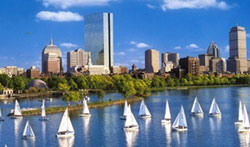 "In order for Boston to continue to be a sustainability leader, our buildings must aggressively invest in cost effective energy efficiency," says Mayor Menino. "Bostonians demand buildings with high performance and this ordinance will encourage building owners to meet that demand."
New York City, Washington, D.C., San Francisco, Seattle, Minneapolis, Austin and Philadelphia have passed similar laws. Building owners are required to use EPA's free Energy Star Portfolio Manager and then the cities make the information available to the public online.
"The Building Energy Reporting and Disclosure Ordinance follows the principal of what gets measured gets managed," says Brian Swett, Chief of Environment and Energy for Boston. "Through measurement and transparency, the ordinance will encourage cost effective building investments in energy and water efficiency that will improve building performance, save money, and reduce greenhouse gas emissions."
The City of Boston's Environment and Energy Services is working with local utilities to develop a process that simplifies whole building data collection and reporting to ensure ease of compliance.
The City of Boston will also disclose its energy and water use across all buildings each year starting with 2012 data.
Buildings, which account for about 70% of the electricity consumed in the U.S., could be made up to 50% more energy efficient with currently available products and services. But most owners don't know how well or poorly their buildings use energy, and unknowingly waste hundreds and even thousands of dollars each month paying unnecessarily higher energy bills.
Boston's target is to cut greenhouse gas emissions 25% by 2020.
NYC, for example, which passed the law in 2009, has found that performance of its buildings varies widely, and if the poorest performers were brought up to speed, the city would cut greenhouse gases by 20%. It's also learned that some of its oldest buildings are more efficient than those with LEED-certification.
(Visited 4,799 times, 18 visits today)